Hey everyone! I am Lokesh N N, a sophomore computer science undergrad from India. I have great experience in React and Javascript. I have won some hackathons too. As I am new to this community, I am not able to find the exact repos for the GSOC'21 idealist. Can anyone kindly tell me the repositories for the below-mentioned projects? Are there any separate repos or should I start with the getting started as a developer page? I have been searching for them for more than 2 hours and I am not able to find them. It would be great if someone mentions them so that I can start contributing to OpenMRS! Thank you!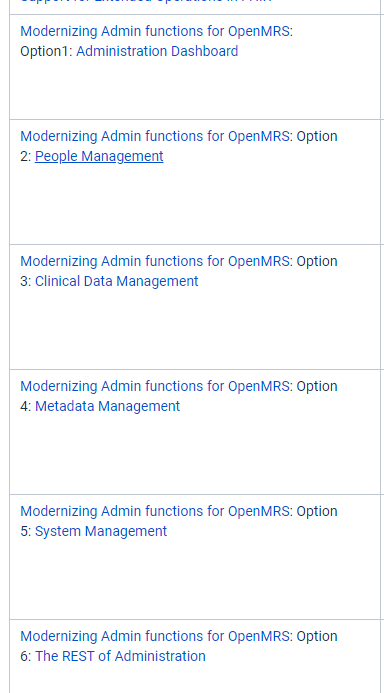 The link for the website:
Hi @loki011101,
Welcome to OpenMRS.
The projects that you are trying to contribute for, are part of Micro Frontend Project.
Maybe this will be helpful for you to start with that.
But apart from that I would encourage you to start with Beginner Guide.
That will help you get familiar with the goals of OpenMRS and help you get involved in the community.
Well, best of luck.
I hope you have a great time here.

All the best.

Hello everyone, I'm Nyesiga Henry third year student at Makerere University Kampala-Uganda doing Information systems and Technology a new member and who wish to contribute to the community mostly in app development and other programs like GSoC 2021.
Hello, @nyyesigahenry,
Welcome to OpenMRS.
You can get started with beginner's guide.
For App development, you can have a look at this.
I hope you enjoy your time here.
All the best.
Hello World, I am Ash Bose from Arizona. I am new OpenMRS community. I have joined here because I wish to learn more about Open MRS and other projects. I used to write codes in C many years ago. I just graduated from Cornell University with Master in Health Administration. I have started a Health Foundation in USA. That is the reason I am here. You can email me directly ashbose@mlbosememorial.org.
Hello @ashbose,
Welcome to OpenMRS.
You can get started here with the Beginner's Guide.
Hope you have a really great time here.
All the best.
Hi everyone! My name is Harsh and I am a computer science undergraduate student from India. I have had some experience with Spring. I would like to be a part of GSOC 2021.
Many thanks,
Hello devs, I am saibaba-alapati and an sophomore at BITS pilani university,India I am making my way into opensource community through GSOC but planning to stay in touch for long even after GSOC. Hope I can make some good contributions to openMRS.
Hey guys.
I am Vinicius Heltai, 36 years old, I live in São Paulo / SP in Brazil.
I am a doctoral student at the Medical School of USP (University of São Paulo). I am developing an aritificial intelligence system with machine learning based on OpenMRS.
I hope I can count on you and help too.
Hugs. Here are my contacts:
Vinicius Heltai
Hi I am Amarnath a student pursuing Btech in IIT Indore,India.I would like to have OpenMRS as my first venture in opensource.I feel myself fit for the project OpenMRS Android Client Project 3.0.x given in ideas list for GSoC 2021.Hope to make great contributions to OpenMRS. Cheers Email : amarnathk5674@gmail.com
Hello, @amar2003,
Welcome to OpenMRS. As shared by by @vasharma05, you can have a look at the GSOC 2021 guidelines.
For andriod related projects you can have a look here.
But I would highly recommend you to, to go through the Beginner's Guide first.
I hope you enjoy your time here.
All the best.


"Hello, I'm Akshat, from Amrita Vishwa Vidyapeetham University. I am a undergraduate student. I am also a member of amFOSS. I have some experience in android dev, and I am really interested in contributing to open source. The idea of organization 'Write code, Save life' tend to to have an initial interest in contributing to the org .Later when I went through the projects it enhanced my interests. Android Client Project 3.0.x is a great project and caught my eye. I would like to start contributing"
Hello @akshatji ! Welcome to OpenMRS Talk. So after your request is accepted from JIRA administrators, you will be able to view issues and start working on them. You can have more information regarding the project in here. Confluence Mobile - OpenMRS Wiki