Hello All, I am working on the wire-frames for a Drug Order Entry module. I aim to include the features to order one or multiple drug orders at a time and also implement Order Sets - allowing the user to order a predefined set of medicines to treat one single disease with a single click.
Here are the snapshots of what I have planned. I would like to join any discussion which pertains to the same/similar requirements. The first screen displays a basic drug order form also displaying the list of active and in-active orders.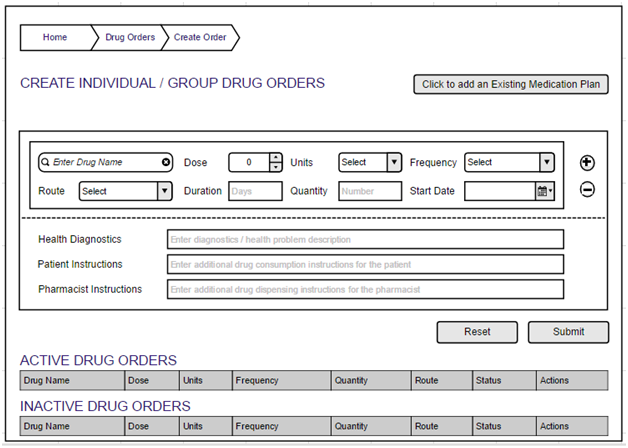 Question: Is there any discussion open with regard to how to provide an alert to the drug ordering physician if the patient happens to be allergic to the drug? I understand that a allergy causing drug list is maintained. I need some clarification on how to implement that.
My second screen shows the UI to select from an existing medication plan where the user clicks on a link corresponding to the name of a disease and all the required drugs along with their compositions get loaded into the form. The user can modify the entries and then submit the form to place the order.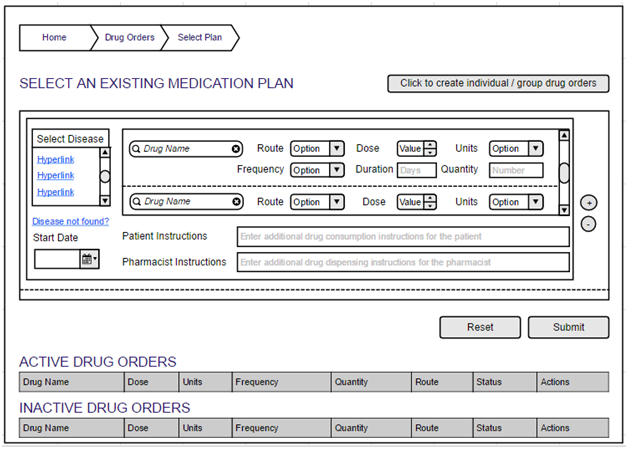 Is it the physician who will enter and store standard medication plans in the system or admin?
Please take a look and provide your suggestions/comments and provide me the link to other similar discussions.