Hi, I was trying to install openmrs 3.x using the https://github.com/openmrs/openmrs-distro-referenceapplication/blob/3.x/run/docker/docker-compose-distro.yml docker image. But for some reason, it fails to install and run the application.
When I start the containers, the backend suddenly crashes showing this error.

(The error log shows a JDK error)
The front end is running without any error, but it is extremely slow.
In the docker desktop app, I can see a warning saying that the images are built for amd64 architecture: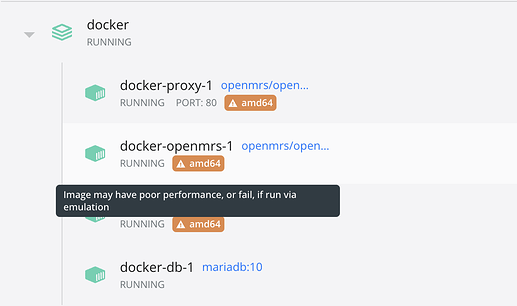 I am using a MacBook Pro M1 which has ARM64 architecture. So, probably that may be the reason for this error.
I think @anjisvj and @pasindur2 are also facing this issue. @ibacher could you please help us to solve this issue.
cc: @jayasanka