People have been sharing with me the PM Tool was a very helpful way of getting a high-level summary of our project for the weekly PM Team calls.
The problem with this tool was that it required some developer effort to maintain. It's out of date without regular developer effort, and TBH, a non-technical PM like me can't maintain it easily.
The good news: Jira dashboards have a lot of this functionality. Here's a prototype that we've started looking at with the PM Team - feedback welcome!
Use case
The PM Team reviews the dashboard on our weekly PM Team call. Goal: make sure we're all aware at a high level of what's going on with our builds, tickets, and teams/squads across the community.
Before: The PM Tool
The "PM Tool", available here: https://pmtool.openmrs.org/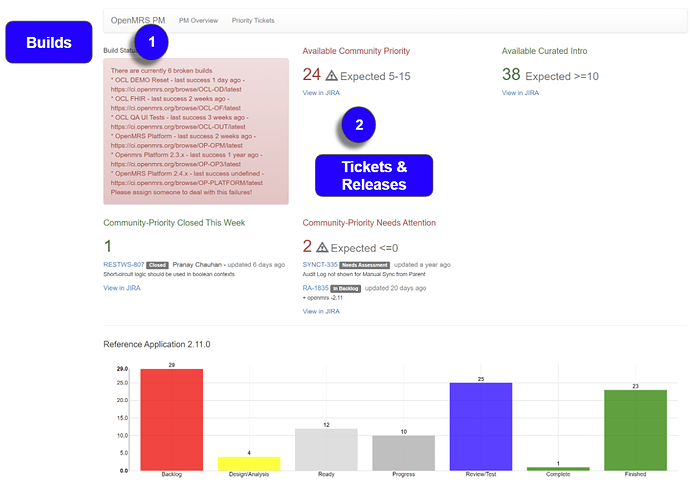 There were several key components in the PM Tool. We set out to discover if we could cover these needs with a Jira dashboard:
Builds Summary: Information on recently failed builds
Summaries of Key Ticket Labels and Upcoming Releases: Overview of RefApp and Core releases, Available Community Priority tickets, Available Curated Intro tickets, Community Priorities closed this week, and Community Priorities that need attention.
After: OpenMRS PM Dashboard in Jira
Live version available here: https://issues.openmrs.org/secure/Dashboard.jspa?selectPageId=15650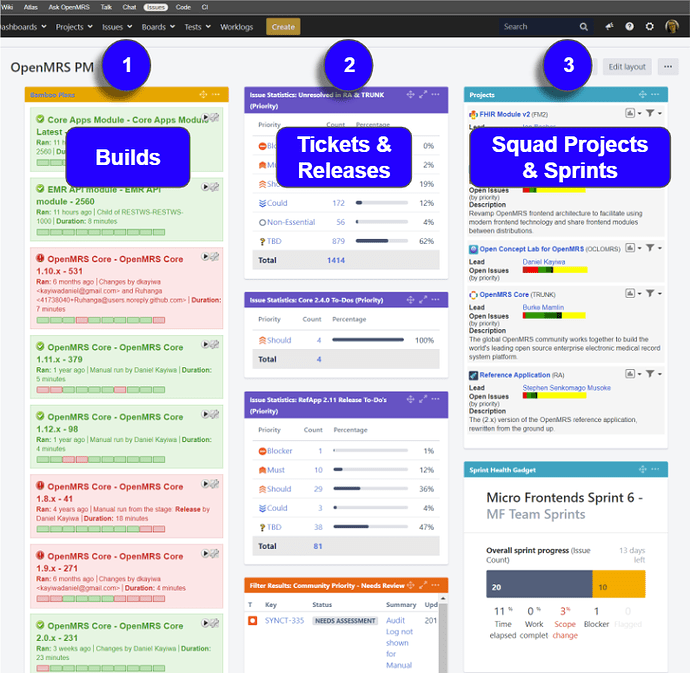 Builds: Shows build summaries for projects we select (annoyingly I can't see to hide the successful ones) - this is thanks to the fact that we happen to use Bamboo, which seems to auto-connect to our Jira instance by virtue of being an Atlassian product.
Tickets & Releases: Shows the remaining backlog of issues to be handled in the next RefApp and Core releases; community priority tickets, and intro tickets.
(New!) Squad Projects & Sprints: The far right hand side shows a list of projects actively being worked on via our ticket system, and if any of these squads have an active sprint running, we'll be able to see that here.
It's a work in progress, and we might find it needs to be way simpler. We can always throw it out if we don't find it helpful. Looking forward to trying this out together!
FYI: @dkayiwa @herbert24 @burke @jwnasambu @tendomart @gcliff @mozzy @sharif @jennifer @gracebish @suthagar23 @ndacyayisenga @darius