Hi all,
Extending discussion from: Proposing "Form Embeddable Widgets":
In OMRS, form-engine technologies primarily focus on capturing observational data, however we have other data points that in a POC setting are captured from different parts of the framework eg. Allergies, Conditions etc. It's important to note that these are all patient centric data points. At UCSF we plan to grab some of the existing widgets and embed them within forms.
OpenMRS 2.x support of embeddable widgets
The ancient/legacy OpenMRS had this notion of portlets, were modules had the ability of defining their own portlets and could be re-used within other JSPs.
2.x on the other hand has the UI Framework, which introduced the concept of UI Fragments. A more practical example could be the EncounterDiagnoses widget. This is available in HFE forms but defined within coreapps as a UI Framework fragment. It's independent of the forms-engine and has a built-in mechanism of posting and fetching data to the backend. I believe this same widget can be used in other parts of the framework.
---
Happy talking about O3?
O3 has this concept of extensions(Learn more about extensions). An Extension simply wraps a Component(hypothetically agnostic to any framework) within some-kind of special parcel that can mounted at any declared slot in the application. Any basic micro-frontend can declare slot and define extensions declaratively or imperatively.
Downscoping
O3 already has support for capturing patient conditions. This widget(actually a simple static form) is readily available as an Extension. You just have to add the required MF(@ openmrs/esm-patient-conditions-app) to your import-map.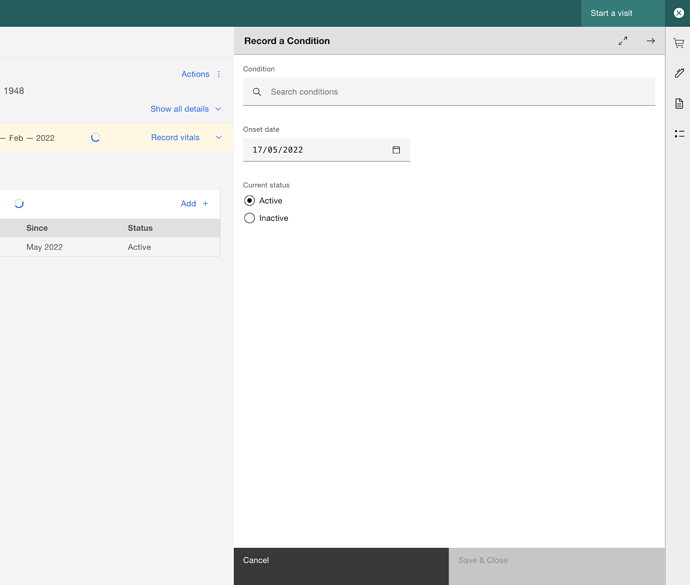 However, we just can't embed this widget as-is within any form as it's published as a form itself with the "Cancel" and "Save" controls at the bottom.
As a POC, we are happy to spike on refactoring this to a widget that can be smoothly embedded in an existing form. Below are my thoughts, your thoughts are welcome to help draft a better mind map:
Currently the widget is fused with standard forms controls, I think we should break this down so that the actual widget is independent of the form it lives in.
For this to work, the widget should have a built-in mechanism to handle submission by itself. This could either be more explicit through callbacks or through events? Or we could fuse small adhoc controls within the widget(could be config driven?) that trigger submission? Your input on this would really be helpful.
cc: @bistenes, @jdick, @mksd, @dkibet, @mayanja, @eudson, @grace