In a collaboration with AMPATH, Palladium,and Health IT in Kenya, we proposed "OpenMRS Connect", an interoperability layer for OpenMRS. It allows for seamless integration with other EMR systems, and health information systems (HIS), as well as with third-party apps and services that support FHIR. This enables healthcare providers to share patient data across different systems and platforms, improving patient care and streamlining workflow.
The Approach
We want to develop an OpenMRS IL that leverages Hibernate events(Using Events module - hibernate interceptors) to listen to database operations and retrieve OpenMRS objects, which are then converted into FHIR messages using the fhir2 module API. The messages are then published to an external message broker (such as Kafka) or a middleware (such as OpenHIM). OpenHIM is an ideal middleware for this interoperability layer because of its flexibility, integration with FHIR, robust security features, scalability, monitoring and logging capabilities.
An architectural overview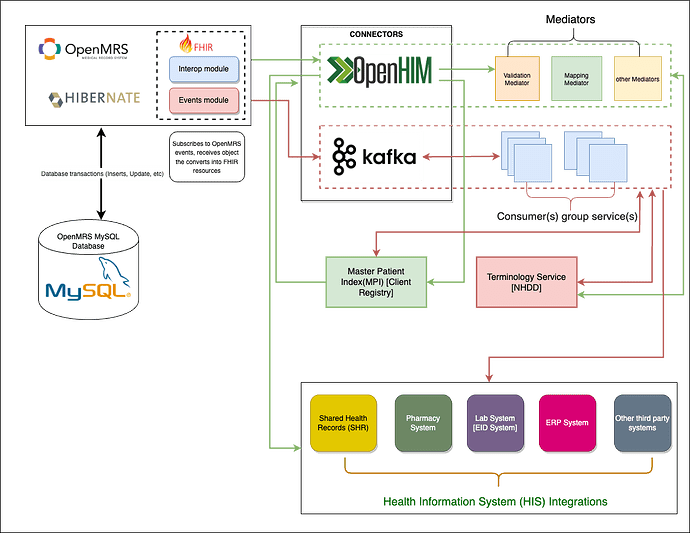 With this approach we have developed a proof of concept interop module which seamlessly emits FHIR messages to OpeHIM channels. Once the FHIR messages reach the openhim server, they are queued and , we can do customizations and data transformations to suit the target system leveraging OpenHIM mediators. Mediators in OpenHIM are components that handle the mapping, transformation, and orchestration of health information between different systems. Mediators can be custom-built or configured to handle specific types of data or interactions. They act as intermediaries between different healthcare systems and ensure that information is translated into a format that can be understood by all participating systems.
We would like to invite the OpenMRS community to consider our approach and provide feedback and suggestions. We believe that this approach will enable integration of OpenMRS with other health IT systems/health information systems(HIS). We look forward to working with the community to make it a reality.
cc'ing:
@AMPATH @PalladiumKenya @dev5 @dev4 @Platform_Team @jdick @ibacher @drizzentic @jecihjoy @ningosi @injiri @patryllus @dennis @burke @dkayiwa @mksd @aojwang