Hello community!
Following Google Summer of Code 2023 timeline I'm glad to inform you that OpenMRS's GSoC application is successfully submitted in time.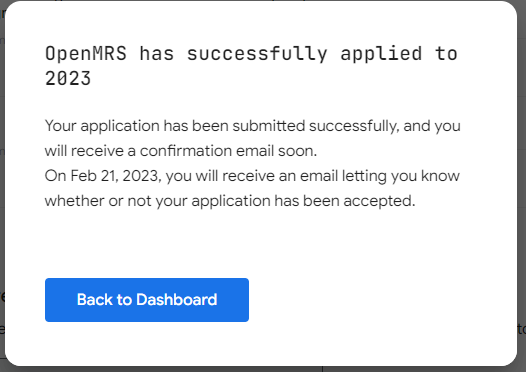 Here are some important dates for next steps:
February 22: List of accepted mentoring organizations published
February 22 - March 19: Potential GSoC contributors discuss application ideas with mentoring organizations
March 20: GSoC contributor application period begins
April 4: GSoC contributor application deadline
May 4: Accepted GSoC contributor projects announced
May 4-28: Community Bonding Period | GSoC contributors get to know mentors, read documentation, get up to speed to begin working on their projects
May 29: Coding officially begins!
The GSoC admins are now reaching out to potential mentors to finalize and document the project ideas on the Wiki: Summer of Code 2023 - Resources - OpenMRS Wiki
Thanks to @jennifer @Jayasanka for your efforts during the application process.