I'm a graduate student from San Francisco State University. Thanks for @ayeung, I'll be contributing and helping develop OpenMRS beginning with this: https://wiki.openmrs.org/display/projects/Expanded+Cohort+Features
As per our discussion with @ayeung and several others, I would like to begin a conversation for the proposal that will go towards the Expanded Cohort module starting with the data model that will incorporate Cohort membership information as per the link above. In addition, in the UI part we plan to add options for the user to define a time interval to run the scheduled tasks in the Expanded Cohort.
I have outlined the changes that are needed to the data model in the ER diagram below: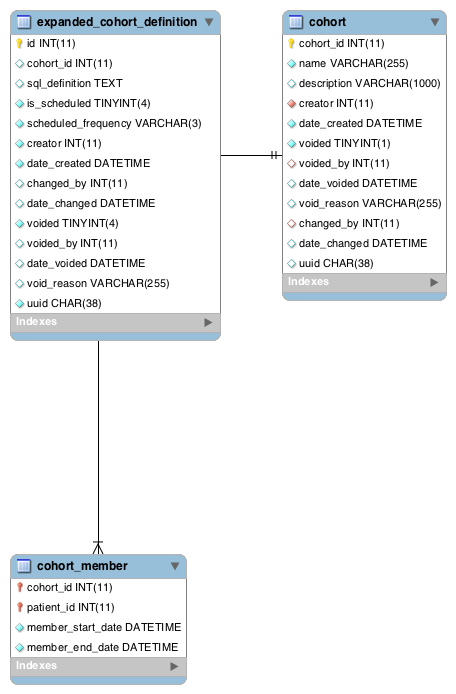 Membership information is added to the cohort_member table and scheduled_interval for the scheduled tasks is added to the expanded_cohort_definition table because it seemed appropriate to accompany it with the sql query.
This is definitely up for discussion, because I would love some input on how to store the time intervals for the scheduled tasks. As per the diagram, I suppose one way to store them is 6h, 7d, 3w, 4m and use MySQL events to run the queries?!