Hi Guys. My name is Ryan Tendonge and I've been having some issues trying to test the work that was done in the Gsoc 2018 Password Reset project.
I have tried setting up my system in a couple of ways. First I set up a new Reference application, version 2.8.1 using the openmrs SDK, but I was advised to set up an Openmrs Platform instead, version 2.2.0-beta(which is the latest version). After configuring my system as specified here( and running the test specified), I got the error specified in the screenshot below.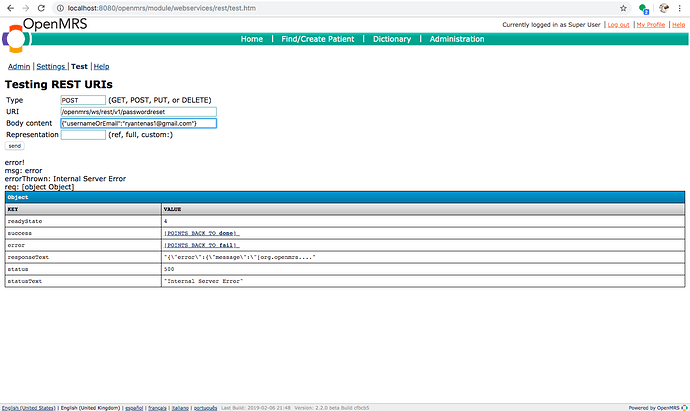 When I check my server logs, I notice this error keeps repeating
Caused by: org.openmrs.notification.MessageException: java.lang.ClassCastException: com.sun.mail.handlers.text_plain cannot be cast to javax.activation.DataContentHandler
I then tried to set my system up using jetty. I cloned openmrs-core from github, ran mvn clean install then I navigated to the webapp folder of the repo and ran mvn jetty:run. I still could not get the Password Reset test to work. Am I doing something wrong?