Hi !
Starting from a fresh installation of Bahmni 0.89 (no Odoo), I have followed the different wiki steps to install Bahmni Connect. Installing+Bahmni+Connect+on+Server Bahmni+Connect+Deployment+Steps
Plus I have added to the SSL certs (OpenMRS Talk: Bahmni Connect (0.89): ERR_INSECURE_RESPONSE).
The Bahmni Connect initial sync is starting (I am asked to log in) but then quickly returns an error:
Could not connect to the server. Please check your connection and try again
Initial sync failed. Please contact system administrator.
In the Chrome console:
GET https://infra-79.mekomsolutions.net/event-log-service/rest/eventlog/events/encounter 400 (Bad Request)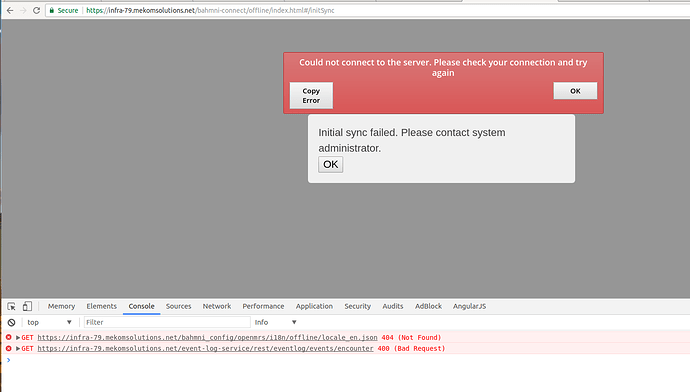 Any idea what could cause this?
Event log service is correctly running:
$ sudo service bahmni-event-log-service status
Service bahmni-event-log-service is running with pid: 5204

Thanks
Romain