Let's hear it for Moses! An aspiring /dev5, Moses has been nominated by the community as April's Volunteer of the Month! This month, we received three nominations for Volunteer of the Month (April) - and two of them were for Mozzy. You may recognize him by his OpenMRS ID, @mozzy
We want to acknowledge Moses' work and commitment to the OpenMRS community, so we asked him a few questions about himself and the different ways he is involved in our community.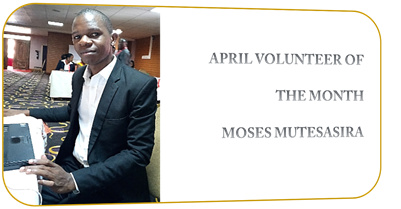 Tell us a little about your background
My name is Mutesasira Moses from Uganda, a graduate with a Bachelor's degree in Industrial Engineering and Management. I went through Kyambogo University in Uganda for my degree. I love learning new things, willing to practice what I have learnt. I am currently volunteering with OpenMRS.
When did you start with OpenMRS
After my Degree from campus in 2016, I first worked as a CAD(Computer Aided Design) Engineer and it's from here where i met a friend @k.joseph
In 2016 who introduced me to OpenMRS as an organization that distributes open source medical record system. I did not join this awesome community instantly at that time ,because i had little and very limited knowledge about programming as a whole ,since at university i had been just introduced to programing . From then i began to read books about java programming ,and developed a few projects so that i could familiarize myself with programming and also prepare myself to join the community.
I was able to join the community in mid 2017 and was warmly welcomed by community members especially @dkayiwa and @jwnasambu After joining, I began familiarizing myself with the community resources which include Wiki, Talk, JIRA and GitHub.
To get a basic understanding about the OpenMRS architecture, i followed the developer manual and developed the Face-list Module(https://wiki.openmrs.org/display/docs/FACE+LIST+MODULE) as a newbie project. it was not really a community priority but it gave me a good understanding about the OpenMRS API. The last three months of 2017, I decided to participate in the Andela BootCamp so that I could improve my programming skills. And after that I came back permanently to the Openmrs community with a better exposure to programming.
How do you participate in the community (What activities, projects, role, etc)
I have helped find solutions to problems faced by friends on talk and IRC.
I have volunteered to improve wiki documentation with a team of other volunteers
I have contributed to fixing bugs and introducing new features to OpenMRS programmatically through working on several Tickets.
I also sometimes attend OpenMRS calls on Uberconference to know about the ongoing projects.
Am currently working as a Release team member with @ruhanga as the Release manager for Platform 2.3 and working on the key Tickets identified for the release.
Am also willing to volunteer as the release manager for Ref App 2.10
What drives or inspires you to work with OpenMRS
The fact that OpenMRS is an Open Source project that aims at saving and improving people's lives through writing code greatly inspires me.
Another fact that am aspiring to be a good programmer , a Guru also drives me to work with OpenMRS
What are your favorite things to do in your free time
I love learning new technologies through reading because of the the fact that we live in a very dynamic world where new technologies pop up every now and then
I love music , swimming , playing instruments especially the Piano.
What's your favorite OpenMRS moment or tell us what makes OpenMRS special to you
My favourite moment on OpenMRS is when i get my Pull Request merged and I get appreciated for the work done.
How has OpenMRS helped you achieve any of your personal goals or how has working with OpenMRS impacted you
Working with OpenMRS has greatly exposed me to a lot of programming technologies and has improved my programming skills to great degree.
It has also taught me good programming practices and working with teams.