Hi, The longitudinal formatting of lab results is hard to read and not particularly user friendly for patients with lots of lab tests done.
The horizontal scroll is at the bottom of the table and so user has to first scroll vertically to the bottom to be able to horizontally scroll. The problem is mainly on devices without multitouch (Mac users, mainly developers, can easily scroll to the right without having to go to bottom.)
The title row is not sticky and so it disappears when the user scrolls to bottom, which makes difficult to see what test result is for what date.
It takes about 20 seconds to load the lab results details page for a patient wit 130 lab tests across 21 accessions.
Attached is a GIF demonstrating the first 2 issues.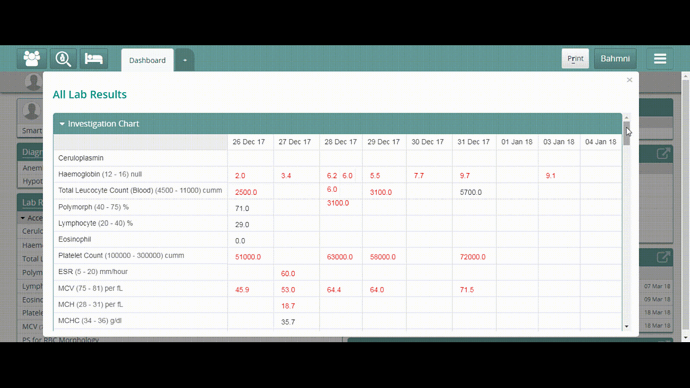 Lab result is one of the most important data elements that doctors refer to in Bahmni and this has been reported by them as causing pain in providing care.
The first 2 problems are more urgent.
Any thoughts on solution… Is this easy to fix? Should i create a JIRA card for this?