Hi there!
noticed that the library JUnitBenchmarks: Code benchmarking in JUnit4 we use for our only performance test ConceptServicePT is deprecated in favor of JMH
Out of curiosity I ran the PT and it fails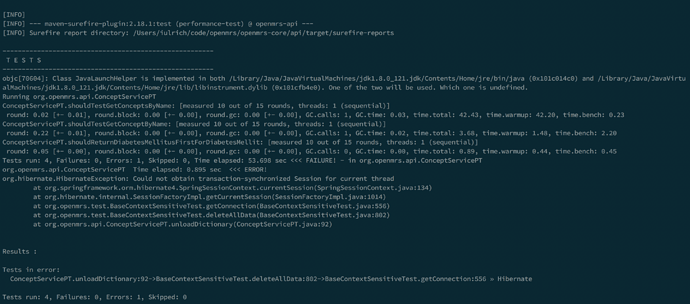 @dkayiwa I see from history you were the last to change the test titled: Revert "Another attempt at fixing bamboo randomly failing tests"
Question: when is the PT run?
Goal 1: obviously I think we should replace the library that is EOL for some years already. Goal 2-x: might this be a good point to think about what it is that we want to measure? I can see that there was a current issue related to performance with concept [TRUNK-5071] Fix performance of get concepts by mapping - OpenMRS Issues
We could figure out some PT tests that are only run before releases or in a nightly build but that could mitigate this from happening again.