Hi there, I'm new to openmrs although I got first installed a server with following characteristics:
Ubuntu 14.04 Apache tomcat7
Hi even deployed openmrs 1.11.6 and then openmrs-standalone server.
On my first expirience (installing openmrs 1.11.6) it works perfectly, even do when I tried to install radiology module and all modules that the module needs I got the error on the image attached.
Then I tried to deploy openmrs-standalone in another virtual machine and the error (without installing modules) was the same has in image.
On both vms I changed java version from openjdk-6-jdk to openjdk-7-jdk.
Is there anything that could escape to me ?
Any help please…
Thanks in advanced to all that can help.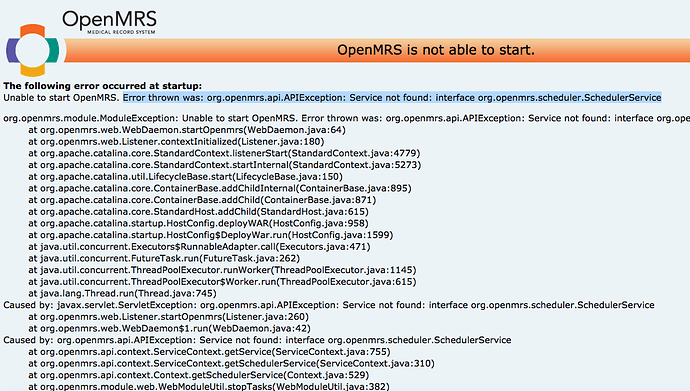 After removing the module event 2.13 (var/lib/OpenMRS/modules/event.omod) openmrs get working although if I start emrapi I get the following
ebModuleUtil.startModule(331) |2016-05-16 14:06:37,881| Unable to refresh the WebApplicationContext for module: emrapi org.springframework.beans.factory.BeanDefinitionStoreException: Unexpected exception parsing XML document from class path resource [applicationContext-service.xml]; nested exception is org.springframework.context.annotation.ConflictingBeanDefinitionException: Annotation-specified bean name 'stringToVisitTypeConverter' for bean class [org.openmrs.ui.framework.converter.StringToVisitTypeConverter] conflicts with existing, non-compatible bean definition of same name and class [org.openmrs.module.emrapi.converter.StringToVisitTypeConverter] at org.springframework.beans.factory.xml.XmlBeanDefinitionReader.doLoadBeanDefinitions(XmlBeanDefinitionReader.java:412) at org.springframework.beans.factory.xml.XmlBeanDefinitionReader.loadBeanDefinitions(XmlBeanDefinitionReader.java:334) at org.springframework.beans.factory.xml.XmlBeanDefinitionReader.loadBeanDefinitions(XmlBeanDefinitionReader.java:302) at org.springframework.beans.factory.support.AbstractBeanDefinitionReader.loadBeanDefinitions(AbstractBeanDefinitionReader.java:174) at org.springframework.beans.factory.support.AbstractBeanDefinitionReader.loadBeanDefinitions(AbstractBeanDefinitionReader.java:209) at org.springframework.beans.factory.support.AbstractBeanDefinitionReader.loadBeanDefinitions(AbstractBeanDefinitionReader.java:180) at org.springframework.web.context.support.XmlWebApplicationContext.loadBeanDefinitions(XmlWebApplicationContext.java:125) at org.springframework.web.context.support.XmlWebApplicationContext.loadBeanDefinitions(XmlWebApplicationContext.java:94) at org.springframework.context.support.AbstractRefreshableApplicationContext.refreshBeanFactory(AbstractRefreshableApplicationContext.java:130) at org.springframework.context.support.AbstractApplicationContext.obtainFreshBeanFactory(AbstractApplicationContext.java:537) at org.springframework.context.support.AbstractApplicationContext.refresh(AbstractApplicationContext.java:451) at org.openmrs.module.ModuleUtil.refreshApplicationContext(ModuleUtil.java:837) at org.openmrs.module.web.WebModuleUtil.refreshWAC(WebModuleUtil.java:962) at org.openmrs.module.web.WebModuleUtil.startModule(WebModuleUtil.java:323) at org.openmrs.module.web.controller.ModuleListController.onSubmit(ModuleListController.java:254) at org.springframework.web.servlet.mvc.SimpleFormController.processFormSubmission(SimpleFormController.java:272) at org.springframework.web.servlet.mvc.AbstractFormController.handleRequestInternal(AbstractFormController.java:268) at org.springframework.web.servlet.mvc.AbstractController.handleRequest(AbstractController.java:153) at org.springframework.web.servlet.mvc.SimpleControllerHandlerAdapter.handle(SimpleControllerHandlerAdapter.java:48) at org.springframework.web.servlet.DispatcherServlet.doDispatch(DispatcherServlet.java:925) at org.springframework.web.servlet.DispatcherServlet.doService(DispatcherServlet.java:856) at org.springframework.web.servlet.FrameworkServlet.processRequest(FrameworkServlet.java:953) at org.springframework.web.servlet.FrameworkServlet.doPost(FrameworkServlet.java:855) at javax.servlet.http.HttpServlet.service(HttpServlet.java:641) at org.springframework.web.servlet.FrameworkServlet.service(FrameworkServlet.java:829) at javax.servlet.http.HttpServlet.service(HttpServlet.java:722) at org.apache.catalina.core.ApplicationFilterChain.internalDoFilter(ApplicationFilterChain.java:305) at org.apache.catalina.core.ApplicationFilterChain.doFilter(ApplicationFilterChain.java:210) at org.openmrs.module.web.filter.ForcePasswordChangeFilter.doFilter(ForcePasswordChangeFilter.java:61) at org.apache.catalina.core.ApplicationFilterChain.internalDoFilter(ApplicationFilterChain.java:243) at org.apache.catalina.core.ApplicationFilterChain.doFilter(ApplicationFilterChain.java:210) at org.openmrs.module.web.filter.ModuleFilterChain.doFilter(ModuleFilterChain.java:72) at org.openmrs.module.web.filter.ModuleFilter.doFilter(ModuleFilter.java:54) at org.apache.catalina.core.ApplicationFilterChain.internalDoFilter(ApplicationFilterChain.java:243) at org.apache.catalina.core.ApplicationFilterChain.doFilter(ApplicationFilterChain.java:210) at org.openmrs.web.filter.OpenmrsFilter.doFilterInternal(OpenmrsFilter.java:109) at org.springframework.web.filter.OncePerRequestFilter.doFilter(OncePerRequestFilter.java:107) at org.apache.catalina.core.ApplicationFilterChain.internalDoFilter(ApplicationFilterChain.java:243) at org.apache.catalina.core.ApplicationFilterChain.doFilter(ApplicationFilterChain.java:210) at org.springframework.orm.hibernate3.support.OpenSessionInViewFilter.doFilterInternal(OpenSessionInViewFilter.java:230) at org.springframework.web.filter.OncePerRequestFilter.doFilter(OncePerRequestFilter.java:107) at org.apache.catalina.core.ApplicationFilterChain.internalDoFilter(ApplicationFilterChain.java:243) at org.apache.catalina.core.ApplicationFilterChain.doFilter(ApplicationFilterChain.java:210) at org.openmrs.web.filter.StartupFilter.doFilter(StartupFilter.java:105) at org.apache.catalina.core.ApplicationFilterChain.internalDoFilter(ApplicationFilterChain.java:243) at org.apache.catalina.core.ApplicationFilterChain.doFilter(ApplicationFilterChain.java:210) at org.openmrs.web.filter.StartupFilter.doFilter(StartupFilter.java:105) at org.apache.catalina.core.ApplicationFilterChain.internalDoFilter(ApplicationFilterChain.java:243) at org.apache.catalina.core.ApplicationFilterChain.doFilter(ApplicationFilterChain.java:210) at org.openmrs.web.filter.StartupFilter.doFilter(StartupFilter.java:105) at org.apache.catalina.core.ApplicationFilterChain.internalDoFilter(ApplicationFilterChain.java:243) at org.apache.catalina.core.ApplicationFilterChain.doFilter(ApplicationFilterChain.java:210) at org.springframework.web.filter.CharacterEncodingFilter.doFilterInternal(CharacterEncodingFilter.java:88) at org.springframework.web.filter.OncePerRequestFilter.doFilter(OncePerRequestFilter.java:107) at org.apache.catalina.core.ApplicationFilterChain.internalDoFilter(ApplicationFilterChain.java:243) at org.apache.catalina.core.ApplicationFilterChain.doFilter(ApplicationFilterChain.java:210) at org.apache.catalina.core.StandardWrapperValve.invoke(StandardWrapperValve.java:224) at org.apache.catalina.core.StandardContextValve.invoke(StandardContextValve.java:169) at org.apache.catalina.authenticator.AuthenticatorBase.invoke(AuthenticatorBase.java:472) at org.apache.catalina.core.StandardHostValve.invoke(StandardHostValve.java:168) at org.apache.catalina.valves.ErrorReportValve.invoke(ErrorReportValve.java:98) at org.apache.catalina.valves.AccessLogValve.invoke(AccessLogValve.java:927) at org.apache.catalina.core.StandardEngineValve.invoke(StandardEngineValve.java:118) at org.apache.catalina.connector.CoyoteAdapter.service(CoyoteAdapter.java:407) at org.apache.coyote.http11.AbstractHttp11Processor.process(AbstractHttp11Processor.java:987) at org.apache.coyote.AbstractProtocol$AbstractConnectionHandler.process(AbstractProtocol.java:579) at org.apache.tomcat.util.net.JIoEndpoint$SocketProcessor.run(JIoEndpoint.java:307) at java.util.concurrent.ThreadPoolExecutor.runWorker(ThreadPoolExecutor.java:1145) at java.util.concurrent.ThreadPoolExecutor$Worker.run(ThreadPoolExecutor.java:615) at java.lang.Thread.run(Thread.java:745) Caused by: org.springframework.context.annotation.ConflictingBeanDefinitionException: Annotation-specified bean name 'stringToVisitTypeConverter' for bean class [org.openmrs.ui.framework.converter.StringToVisitTypeConverter] conflicts with existing, non-compatible bean definition of same name and class [org.openmrs.module.emrapi.converter.StringToVisitTypeConverter] at org.springframework.context.annotation.ClassPathBeanDefinitionScanner.checkCandidate(ClassPathBeanDefinitionScanner.java:312) at org.springframework.context.annotation.ClassPathBeanDefinitionScanner.doScan(ClassPathBeanDefinitionScanner.java:253) at org.springframework.context.annotation.ComponentScanBeanDefinitionParser.parse(ComponentScanBeanDefinitionParser.java:84) at org.springframework.beans.factory.xml.NamespaceHandlerSupport.parse(NamespaceHandlerSupport.java:73) at org.springframework.beans.factory.xml.BeanDefinitionParserDelegate.parseCustomElement(BeanDefinitionParserDelegate.java:1438) at org.springframework.beans.factory.xml.BeanDefinitionParserDelegate.parseCustomElement(BeanDefinitionParserDelegate.java:1428) at org.springframework.beans.factory.xml.DefaultBeanDefinitionDocumentReader.parseBeanDefinitions(DefaultBeanDefinitionDocumentReader.java:195) at org.springframework.beans.factory.xml.DefaultBeanDefinitionDocumentReader.doRegisterBeanDefinitions(DefaultBeanDefinitionDocumentReader.java:139) at org.springframework.beans.factory.xml.DefaultBeanDefinitionDocumentReader.registerBeanDefinitions(DefaultBeanDefinitionDocumentReader.java:108) at org.springframework.beans.factory.xml.XmlBeanDefinitionReader.registerBeanDefinitions(XmlBeanDefinitionReader.java:493) at org.springframework.beans.factory.xml.XmlBeanDefinitionReader.doLoadBeanDefinitions(XmlBeanDefinitionReader.java:390) … 69 more WARN - WebModuleUtil.startModule(341) |2016-05-16 14:06:37,885| Error while stopping a module that had an error on refreshWAC org.openmrs.api.APIException: Service not found: interface org.openmrs.scheduler.SchedulerService at org.openmrs.api.context.ServiceContext.getService(ServiceContext.java:755) at org.openmrs.api.context.ServiceContext.getSchedulerService(ServiceContext.java:310) at org.openmrs.api.context.Context.getSchedulerService(Context.java:528) at org.openmrs.module.web.WebModuleUtil.stopTasks(WebModuleUtil.java:382) at org.openmrs.module.web.WebModuleUtil.stopModule(WebModuleUtil.java:861) at org.openmrs.module.web.WebModuleUtil.startModule(WebModuleUtil.java:335) at org.openmrs.module.web.controller.ModuleListController.onSubmit(ModuleListController.java:254) at org.springframework.web.servlet.mvc.SimpleFormController.processFormSubmission(SimpleFormController.java:272) at org.springframework.web.servlet.mvc.AbstractFormController.handleRequestInternal(AbstractFormController.java:268) at org.springframework.web.servlet.mvc.AbstractController.handleRequest(AbstractController.java:153) at org.springframework.web.servlet.mvc.SimpleControllerHandlerAdapter.handle(SimpleControllerHandlerAdapter.java:48) at org.springframework.web.servlet.DispatcherServlet.doDispatch(DispatcherServlet.java:925) at org.springframework.web.servlet.DispatcherServlet.doService(DispatcherServlet.java:856) at org.springframework.web.servlet.FrameworkServlet.processRequest(FrameworkServlet.java:953) at org.springframework.web.servlet.FrameworkServlet.doPost(FrameworkServlet.java:855) at javax.servlet.http.HttpServlet.service(HttpServlet.java:641) at org.springframework.web.servlet.FrameworkServlet.service(FrameworkServlet.java:829) at javax.servlet.http.HttpServlet.service(HttpServlet.java:722) at org.apache.catalina.core.ApplicationFilterChain.internalDoFilter(ApplicationFilterChain.java:305) at org.apache.catalina.core.ApplicationFilterChain.doFilter(ApplicationFilterChain.java:210) at org.openmrs.module.web.filter.ForcePasswordChangeFilter.doFilter(ForcePasswordChangeFilter.java:61) at org.apache.catalina.core.ApplicationFilterChain.internalDoFilter(ApplicationFilterChain.java:243) at org.apache.catalina.core.ApplicationFilterChain.doFilter(ApplicationFilterChain.java:210) at org.openmrs.module.web.filter.ModuleFilterChain.doFilter(ModuleFilterChain.java:72) at org.openmrs.module.web.filter.ModuleFilter.doFilter(ModuleFilter.java:54) at org.apache.catalina.core.ApplicationFilterChain.internalDoFilter(ApplicationFilterChain.java:243) at org.apache.catalina.core.ApplicationFilterChain.doFilter(ApplicationFilterChain.java:210) at org.openmrs.web.filter.OpenmrsFilter.doFilterInternal(OpenmrsFilter.java:109) at org.springframework.web.filter.OncePerRequestFilter.doFilter(OncePerRequestFilter.java:107) at org.apache.catalina.core.ApplicationFilterChain.internalDoFilter(ApplicationFilterChain.java:243) at org.apache.catalina.core.ApplicationFilterChain.doFilter(ApplicationFilterChain.java:210) at org.springframework.orm.hibernate3.support.OpenSessionInViewFilter.doFilterInternal(OpenSessionInViewFilter.java:230) at org.springframework.web.filter.OncePerRequestFilter.doFilter(OncePerRequestFilter.java:107) at org.apache.catalina.core.ApplicationFilterChain.internalDoFilter(ApplicationFilterChain.java:243) at org.apache.catalina.core.ApplicationFilterChain.doFilter(ApplicationFilterChain.java:210) at org.openmrs.web.filter.StartupFilter.doFilter(StartupFilter.java:105) at org.apache.catalina.core.ApplicationFilterChain.internalDoFilter(ApplicationFilterChain.java:243) at org.apache.catalina.core.ApplicationFilterChain.doFilter(ApplicationFilterChain.java:210) at org.openmrs.web.filter.StartupFilter.doFilter(StartupFilter.java:105) at org.apache.catalina.core.ApplicationFilterChain.internalDoFilter(ApplicationFilterChain.java:243) at org.apache.catalina.core.ApplicationFilterChain.doFilter(ApplicationFilterChain.java:210) at org.openmrs.web.filter.StartupFilter.doFilter(StartupFilter.java:105) at org.apache.catalina.core.ApplicationFilterChain.internalDoFilter(ApplicationFilterChain.java:243) at org.apache.catalina.core.ApplicationFilterChain.doFilter(ApplicationFilterChain.java:210) at org.springframework.web.filter.CharacterEncodingFilter.doFilterInternal(CharacterEncodingFilter.java:88) at org.springframework.web.filter.OncePerRequestFilter.doFilter(OncePerRequestFilter.java:107) at org.apache.catalina.core.ApplicationFilterChain.internalDoFilter(ApplicationFilterChain.java:243) at org.apache.catalina.core.ApplicationFilterChain.doFilter(ApplicationFilterChain.java:210) at org.apache.catalina.core.StandardWrapperValve.invoke(StandardWrapperValve.java:224) at org.apache.catalina.core.StandardContextValve.invoke(StandardContextValve.java:169) at org.apache.catalina.authenticator.AuthenticatorBase.invoke(AuthenticatorBase.java:472) at org.apache.catalina.core.StandardHostValve.invoke(StandardHostValve.java:168) at org.apache.catalina.valves.ErrorReportValve.invoke(ErrorReportValve.java:98) at org.apache.catalina.valves.AccessLogValve.invoke(AccessLogValve.java:927) at org.apache.catalina.core.StandardEngineValve.invoke(StandardEngineValve.java:118) at org.apache.catalina.connector.CoyoteAdapter.service(CoyoteAdapter.java:407) at org.apache.coyote.http11.AbstractHttp11Processor.process(AbstractHttp11Processor.java:987) at org.apache.coyote.AbstractProtocol$AbstractConnectionHandler.process(AbstractProtocol.java:579) at org.apache.tomcat.util.net.JIoEndpoint$SocketProcessor.run(JIoEndpoint.java:307) at java.util.concurrent.ThreadPoolExecutor.runWorker(ThreadPoolExecutor.java:1145) at java.util.concurrent.ThreadPoolExecutor$Worker.run(ThreadPoolExecutor.java:615) at java.lang.Thread.run(Thread.java:745)