I am increasingly hearing that folks want to "improve workflows" in O3. However it seems everyone has something slightly different in mind with the word "workflows"!
I've started this visual graphic PPT slide to help us lay out the requirements and their categories - please have a look and feel free to add comments or edits there or here in this thread


Source File here: Workflows in O3: Types and Needs - Google Slides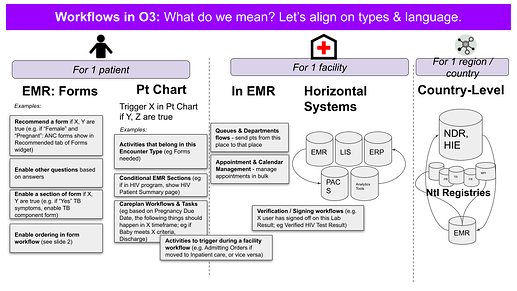 My goal is to use this visual to help us align on our wording, and our priorities for the O3 Product. Here's how I see it, from granular to bigger level:
Patient-Level: Workflows specific to the individual patient

EMR: In a Form
EMR: In the Patient Chart

Facility-Level: Workflows that impact multiple patients / the department / the facility

In the EMR
Horizontal Systems (eg from EMR ↔ LIS ↔ ERP ↔ PACS ↔ Analytics Tools etc)

Country/Region-Level:

Between EMR and National Registries (eg Client Registry, Facilities Registry, Provider Registry, Terminology Registry, etc)
Between EMR and Central Data Store (NDR/SHR/HIE)
So, a few examples:
| Scenario | Where it Happens | Category |
| --- | --- | --- |
| Recommend a form if X, Y are true (e.g. if "Female" and "Pregnant": ANC forms show in Recommended tab of Forms widget) | In Forms / Form UI | Patient-Level: Forms |
| Careplan Workflows & Tasks (eg based on Pregnancy Due Date, the following things should happen in X timeframe; eg if Baby meets X criteria, Discharge) | In Patient Chart | Patient-Level: Chart |
| Queues & Departments flows - send pts from this place to that place | In EMR outside of Patient Chart | Facility-Level: In EMR |
| Clinician writing a Drug Order sees warning that drug is low-stock | Integration btwn EMR & ERP | Facility-Level: Horizontal Systems |
| Clerk needs to search the National Patient Registry, so the patient's existing demographics can be auto-populated, by typing the patient's National ID and having the system auto-search the National MPI/CRVS, without leaving the EMR Registration page | In EMR but integration is Country-Level | Country-Level |
What do you think?
Does this categorization make sense to folks?
If so - where do you see the biggest need for the O3 RefApp to focus on?
CC @gsluthra @aojwang @michaelbontyes @burke @jteich @jdick @slubwama @wamz @mwaririm @mksrom @fanderson & others