In the OpenMRS version, at https://demo.openmrs.org/openmrs/ you can encounter an error related to the duality of the system administration panel.
First:
Second:
How to get to the first one? Click "System Administration" on the home panel:
How to find the second? Enter the first one as above. Then select "Manage Modules", "Manage Scheduler" or "System Information":
Then click "SysAdmin":
Panel differences: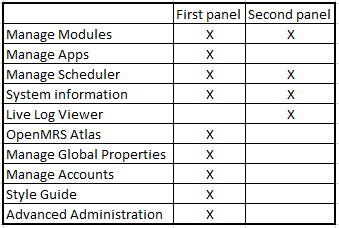 Is it correct that there are two panels or is it a bug?
At the moment I am unable to run the version compiled from the master branch, everything was done on the version https://demo.openmrs.org/openmrs/, so I don't know if the version from the master branch also has this problem.