Hi guys,
In the process of translating some of the Bahmni components into Khmer language, I notice that some messages seem to be missing in Transifex. For instance, I can not find where to translate the 'Observations' string that shows in the Clinical App/ Consultation screen.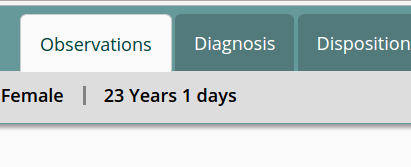 The i18n code for this is OBSERVATIONS_BOARD_LABEL_KEY and it is not present in the Transifex file: https://www.transifex.com/openmrs/bahmni/clinical-app/km/download/for_translation/
Note: The OBSERVATIONS_BOARD_LABEL_KEY message is present in Bahmni Apps module but only in the clinical/locale_fr.json:
Search for OBSERVATIONS_BOARD_LABEL_KEY in Bahmni Apps
(Q) How to make this message (and others) available in Transifex?
Thanks
Romain