Hello Community Member & Bahmni Supporter!
As we start 2021, we wanted to provide a short summary of the impact & new features rolled out in 2020. This has been an unprecedented year for humanity and the Bahmni community has responded! As you are aware, Bahmni is a free & open source EMR and Hospital Management system designed for NGOs, Governments and clinics across the globe operating in difficult, resource-constrained or challenging environments. We are delighted to see an amazing adoption & rollout of Bahmni across the world, and are excited about the new features recently developed around Covid care, Tele-Consultation, Form Designing, Analytics and more.
Impact of Bahmni (As of end-2020)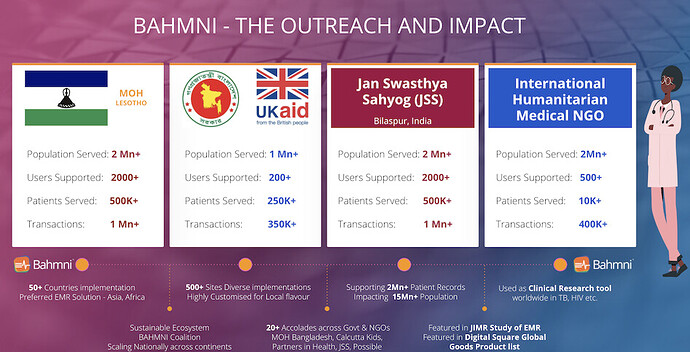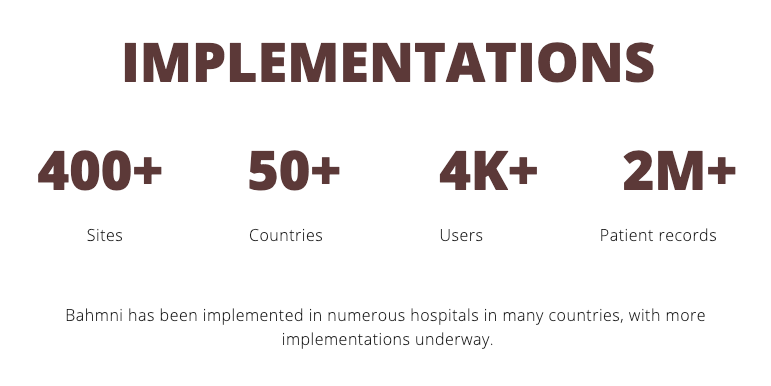 New Features Rolled Out (2020, Release V0.93-alpha)
The V0.93 features and new extensions around Bahmni were demonstrated in the recent OpenMRS Virtual Implementers Conference (conference link & notes). You can play with Bahmni Demo here.
Appointment Module extended with support for recurring appointments, multiple providers, conflict management and technology upgrade from Angular to React.

Operation Theatre scheduling features.

Tele-Consultation Module with Video Chat built in into Bahmni using opensource Jitsi (10 min demo of Tele-consultation)

Form Builder enhancements including role-based authorisation for controlling who can access which patient forms.

Access controls to limit who has access to which reports.

Usability & Interface enhancements in OpenELIS (Lab System), Registration Interface and Clinical Interface to reduce errors & find patient information faster.

Enhanced Localisation support including right-to-left languages.

Covid-19 Starter Kit: Programs, Forms and Reports for capturing covid-19 data (See here).

Odoo ERP & EMR integration to support sync of Surgery/Procedures besides Drug orders, for quicker & accurate billing.

Support Metabase tool for Data Analytics & Reporting.
Additionally, modules are being developed to make Bahmni function as a Health Information Provider (HIP) integrated with India's Federated Health Record system, where users can have access to a longitudinal view of their health data across all providers. There is also a consent app developed where a citizen can approve providers from accessing a specific part of their care reports. Read more here.
Invest, Contribute & Grow Bahmni
We would appreciate support in the form of donations, spreading the word in adopting or volunteering to help accelerate development and impact of Bahmni. Any contribution will be appreciated!
DONATE LINK (OpenMRS & Bahmni):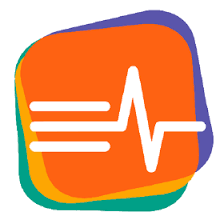 Thank you for the tremendous support of the #OpenMRS Community and various organisations/implementors/volunteers rolling out Bahmni across the world. We wouldn't have been able to achieve all this without your contributions and efforts! Have a safe holiday and see you all with a renewed focus in 2021!
–
Regards, Bahmni Team