you can explain what you are trying to accomplish
Yes Burke that is what i am trying to do. It tells me i must install a certain Linux before i get a complete installation of the Docker to my windows 11
Oh sorry i thought my screenshort would explain better to those who might have done it before. My bad. I am trying to install a docker to my windows 11 pc. So in order to complete it gave me that link to first fix those before the installation is finally complete.
Hi @brenda29 , I faced something similar with my windows 10 version some time back . I think you should try following this → Conversation…There is a conversation on super user, try the option where you download the → installer and run it. This is to Download the Linux kernel update package. It should work on win 11 too after the restart …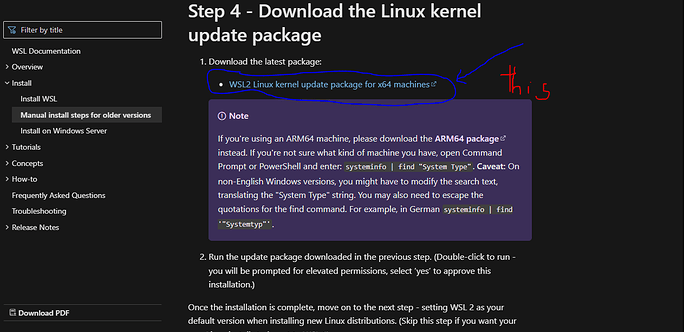 I did that successfully but when it came to the selection of the distributers, i could not decide on which one. Maybe you can help me there…that part has the lining of the Ubuntu and the rest…not sure which one to go with…
Hi @brenda29 go with ubuntu 20.04 supported till 2030, but be careful not to choose the one with ARM if that's not your system architecture.