Hi.
I'm trying to implement a SQLDataSet definition report. Right now I'm able to run it if the query has no parameters. However with parameters I don't. Below is my setup. Am I doing something wrong? I've defined a SQL Dataset with the following query:
select t1.* 
from appointmentscheduling_appointment t1, appointmentscheduling_time_slot t2,
appointmentscheduling_appointment_block t3, provider t4, person t5
where t1.time_slot_id = t2.time_slot_id
and t2.appointment_block_id = t3.appointment_block_id
and t3.provider_id = t4.provider_id
and t4.person_id = t5.person_id
and t2.start_date >= @start_date
and t2.end_date <= @end_date
and t3.location_id = @location_id
and t3.provider_id = @provider_id

On this dataset, I've defined the following parameters: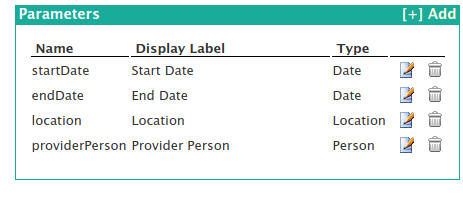 After it I created a report definition, and added the above dataset to it:

I also added a report design, bui I think it doesn't matter for this question.
Note: I've noticed on the docs, that parameters are usually referenced using a colon sign ( : ), but from what I've read mysql started using @ sign instead.
P.S: Another question, is it possible to run report processor only if it's returned any rows?