Dear Community Members,
I'm excited to share some proposed improvements to our end-to-end (E2E) testing strategy. Our goal is to enhance test readability and maintainability, making it easier for both non-technical stakeholders and future developers to understand our test coverage.
In response to recent requirements from our funders (WHO and Digital Square), we need to include some form of BDD human-readable text in our test coverage. We also want to ensure that the tests we create are easy to maintain and understand by future developers.
After considering our options, I suggest using test.step from Playwright to meet these requirements. It is important to note that Playwright does not natively support BDD or Gherkin. We would need to use third-party libraries to integrate Gherkin, which may add complexity compared to using only Playwright's built-in features. This approach adds a layer of abstraction, potentially making it harder to access some existing features or functionality introduced in future Playwright releases. We might need to wait for the third-party libraries to be updated to support new Playwright features or find alternative ways to implement them within the context of the BDD framework. We faced similar issues with our previous Cypress setup, and limited documentation might also be a concern.
To demonstrate, here is an example of how the code would look using test.step: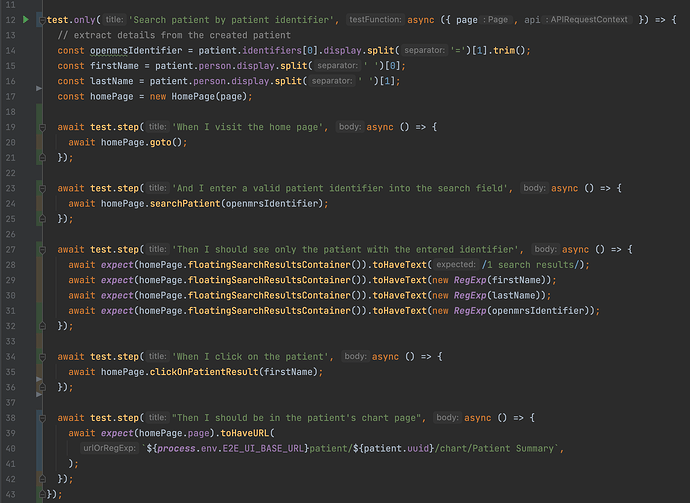 And here is how the report would appear: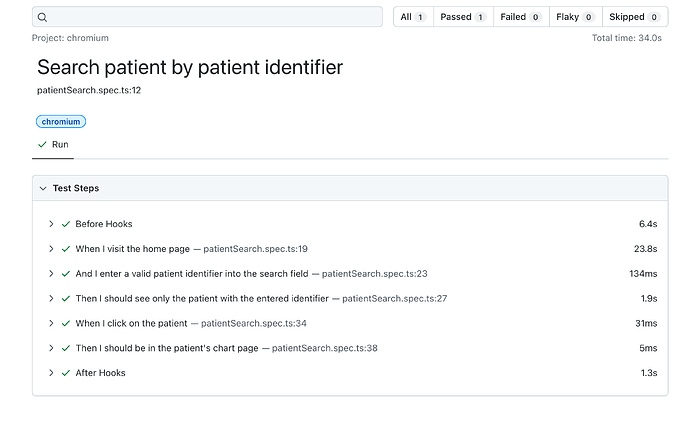 I plan to use Gherkin-like step definitions, especially the "I" keyword, to create a more user-centric focus on actions and experiences. This approach can help the team empathize with the end-user and understand their perspective. For example:
I kindly ask for your feedback on this proposed approach. Are there any concerns or suggestions you may have? I value your input and appreciate your support in enhancing the quality of OpenMRS E2E testing.
Thank you for your time and consideration, and I look forward to hearing your thoughts.
cc: @ibacher @dkayiwa @raff @grace @piumal1999 @anjisvj @vasharma05 @hadijah315 @randila @ayushmishra