Talked with @jamlung about this issue this week; we're hoping Joe + @paynejd + @burke + @sny can identify a solution in their usual meeting together this Friday. Here's the details:
There's an error, which is usually a blocker, that folks like @michaelbontyes and myself keep running into: Coded-type concepts' children often don't successfully import from OMRS into OCL via CSV Bulk Import, and often don't successfully import from OCL into OpenMRS. Michael and I identified the cause today: The External ID requirement in the Name field. When this is blank, problems arise, as described below:
1) OCL Workflow: From OCL to OpenMRS
Steps:
Have a Coded-type concept in your collection, with children (e.g. a Question concept with Answers mapped)
Try subscribing to your collection
See the following error message: "Cannot save mapping XXX [CAUSE]: Column 'uuid' cannot be null"
Tested and reproduced with: Question, Coded. I need to test with the other Set-types like LabSet, MedSet, and ConvSet.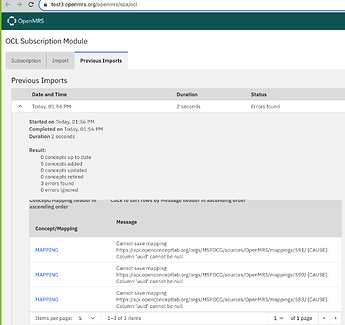 I realized these errors were all coming from the same parent concept. We then discovered the blank name field was the culprit: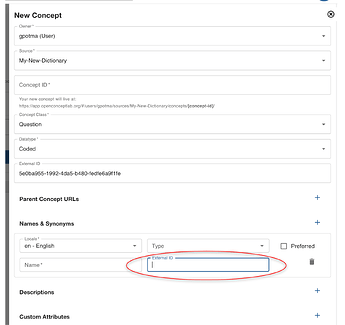 2) CSV Bulk Import Workflow: From OMRS to OCL
Mappings with external IDs bulk imported through CSV work, and also bring answers in coded questions in OpenMRS, so long as you add a UUID for the question names. So @michaelbontyes will use that work around until generation through the UI is solved.
Solution Idea
Burke's previous post on a related topic about external id's (quoted below) makes me think we do want to continue enforcing non-null values of external_id. If this is the case: Could OCL auto-generate a UUID for names, so we stop accidentally running into this blank name ID problem?
CC: @ball