Thanks for the chance to present yesterday @jennifer. As a followup, I'd like to share a little more detail on our project proposal. As part of Jembi's COVID-19 response, we are evaluating how we can extend the OpenHIM to support COVID-19 data exchange use cases.
One of the proposals is to develop an OpenHIM mediator to provide out-the-box support for submitting COVID-19 case data to DHIS2 Tracker in compliance with the DHIS2 COVID-19 Surveillance Digital Data Package and data model that has been developed. We are evaluating if this would be of value to the OpenMRS community and if there are any implementations that would look to make use of this.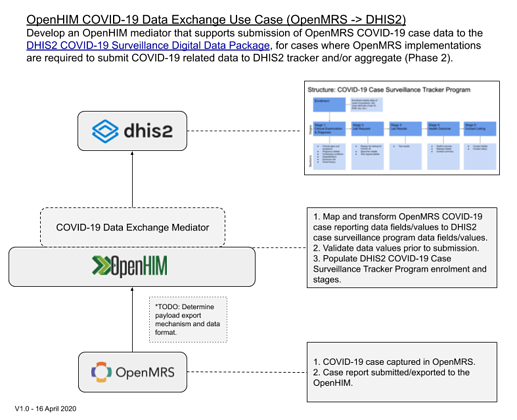 As a first step I've done an initial pass at mapping the OpenMRS COVID-19 data dictionary to the DHIS2 COVID-19 Surveillance data model. It'd be great to get eyes on this and any comments/feedback on the mappings from those that have been involved with the OpenMRS data dictionary:
Thanks again.