Application Name: OrderEntry OWA Version Number: 1.1.0
Question 1: How do I make the New Drug Order auto-suggest work? I installed orderentry owa and followed the required configuration.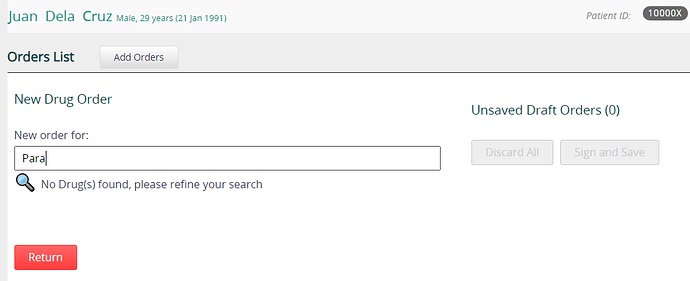 Question 2: A 404 HTTP Status error appears whenever I click the Return button on the New Drug Order page.

I don't know if this is related but I also noticed this error from the logs related to the 'Dispensed Medication' widget.
ERROR - AppFrameworkActivator.registerAppsAndExtensions(101) |2020-06-03 10:13:09,187| Error loading app framework. Some apps might not work.org.openmrs.module.appframework.factory.UserAppFactory@43b58bd2
java.lang.IllegalStateException: App 'coreapps.dispensedMedication' says its an instanceOf 'coreapps.template.dashboardWidget' but there is no AppTemplate with that id
        at org.openmrs.module.appframework.repository.AllAppDescriptors.setAppTemplatesOnInstances(AllAppDescriptors.java:74)
        at org.openmrs.module.appframework.AppFrameworkActivator.registerAppsAndExtensions(AppFrameworkActivator.java:97)
        at org.openmrs.module.appframework.AppFrameworkActivator.contextRefreshed(AppFrameworkActivator.java:69)
        at org.openmrs.module.ModuleUtil.refreshApplicationContext(ModuleUtil.java:923)
        at org.openmrs.module.web.WebModuleUtil.refreshWAC(WebModuleUtil.java:847)
        at org.openmrs.web.Listener.performWebStartOfModules(Listener.java:632)
        at org.openmrs.web.Listener.performWebStartOfModules(Listener.java:612)
        at org.openmrs.web.Listener.startOpenmrs(Listener.java:251)
        at org.openmrs.web.WebDaemon$1.run(WebDaemon.java:42)