I would like to invite you to an OpenMRS Immersion evening happening this Thursday 1st December 2016 from 5pm to 7pm EAT at Outbox. Register OpenMRS Immersion evening - Outbox - December 1, 2016 . The session is free to attend.
In preparation for the OpenMRS International Implementor's Conference to be held from December 6 to 9, and hack-a-thon on December 10 and 11, Outbox is holding an Immersion evening on Thursday December 1, 2016 from 5 to 7pm.
OpenMRS is an open source electronic management record system which was adopted by Uganda in 2005. The Uganda implementation, branded UgandaEMR, is currently functional in about 450 health facilities, November 2016, with a national target of having the system in about 1000 health facilities by the end of 2017
The purpose of the developer day is to introduce the OpenMRS technical architecture, support tools around it and how to get started contributing to both the open-source project and UgandaEMR.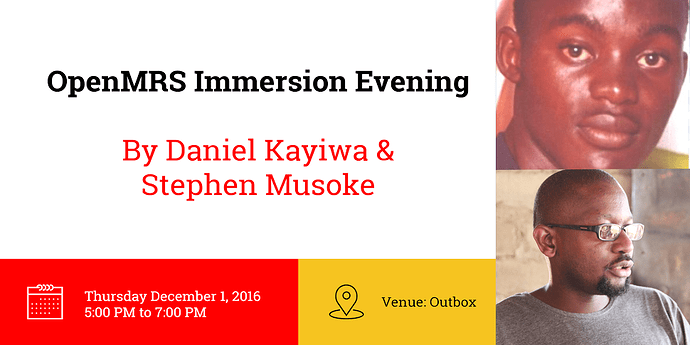 The immersion will also set the stage for those who will participate in the conference and the follow-on Ugandan OpenMRMS hack-a-thon.
The topics for this developer are:
Accessing OpenMRS Talk, JIRA, GitHub, WIKI
Setting up an OpenMRS development environment using the SDK
Difference Platform and Reference Application
How to contribute to OpenMRS and UgandaEMR
Creating a module
Fixing my first issue
The sessions will be facilitated by: