Dear Community, Last week was the 2022 Global Digital Health Forum, where Global Goods leaders, funders, implementers, and Ministry of Health Digital Teams come together to share recent Digital Health work and industry strategies/trends. @jennifer, myself, @janflowers and @paul worked hard to share information about our OpenMRS community, and to learn information that might be helpful to our community. I'd like to share with you all some of the presentations we supported, and some that had valuable, relevant information.
In-Person sessions with OpenMRS
Avoiding Tragedy of the Commons: Open Source Governance Models
@jennifer on a panel with Dimagi and OpenFN, where each shared how their Global Good's governance model works, especially regarding Open Source community. Each was very different!
Recording: Here; you just have to sign up for a free "virtual" attendee account.
Optimizing Electronic Health Record Design, Implementation and Evaluation: Useful Toolkits from the Technical Assistance Platform - by @beth, @jennifer, & @janflowers
No recording available but details available at the link.
Virtual Sessions with OpenMRS
The Impact of Embedding User Experience Design: Practical results and ROI when modern design thinking is central to Global Goods development
A Panel from 4 global goods about how each community is leveraging UX & design thinking. Since OpenMRS is still relatively new to our Design Thinking journey, it was very interesting to see how Medic Mobile, Ona, and OCL handle their UX/design processes.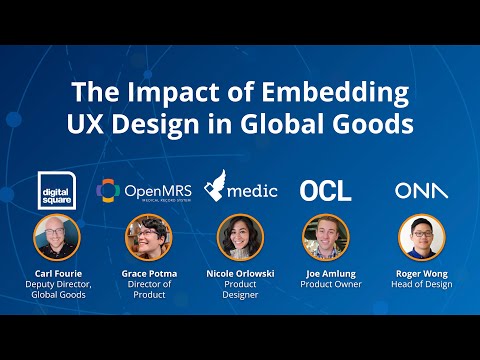 OpenMRS and Climate Change: Our big 5 strategic responses
The only session at GDHF about climate change! We walk through how the rise of Disease, Disasters, and Displacement should be impacting our thinking in the Global Goods industry.