Question: How can we support Tags/Flags in 3.x?
There is a growing need to align how to add tags or flags to individual patients.
Current Design Examples:
In a Header, or on a Patient Summary: The latest design proposed for an HIV Summary from this week's 3.x Design call (though it can be extrapolated to any condition):
Historical Examples
This is already being done in a few notable areas:
Exhibit A: 2.x RefApp e.g. here is how/where Patient Flags are shown in the iSantePlus EMR in Haiti: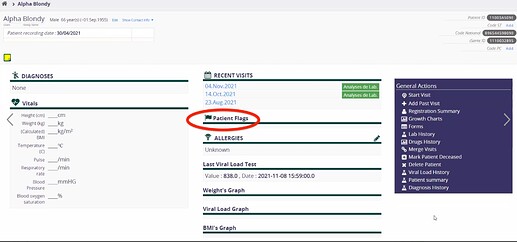 Exhibit B: Custom Extensions in OHRI For Tags in Patient Header

Exhibit C: Tags in KenyaEMR Patient Header

There's a clear need to support patient tags in 3.x. So how do folks recommend we approach this? What should we apply from the historic OMRS Patient Flags Module? Or, the old work done on the Generic Tagging Module?
CC @mksd @ibacher @jdick @dkayiwa @eudson @wamz @mksrom @bistenes @mseaton @mogoodrich @ssmusoke @dkibet @dkigen @aojwang @piotr @rony & please CC others who may have helpful knowledge here