Thanks to the OHRI project and tireless support from our O3 Squad members/orgs, we have a rapidly growing number of implementations around the world who are interested in setting up O3 + the OHRI package. (Eg I can think of 6+ different country locations off the top of my head!)
One of the major feedback items from technical teams as they first start out is, "It's not clear the steps our devs should take to get started. Then, it's also not clear what already exists, like what's out there for existing RefApp apps or OHRI apps."
We have 2 major strategies to address this ASAP:
Improve the flow and content of O3 + OHRI onboarding docs (thanks to support from @eudson @alaboso @larslemos)

Create a single, searchable directory of existing O3 apps (thanks to @slubwama & @tanderson for direct input)
#1:

Flow + Content of O3 + OHRI docs

Here is the Onboarding Docs workflow vision in my head - @eudson @alaboso @samuel34 @pirupius does this resonate for you?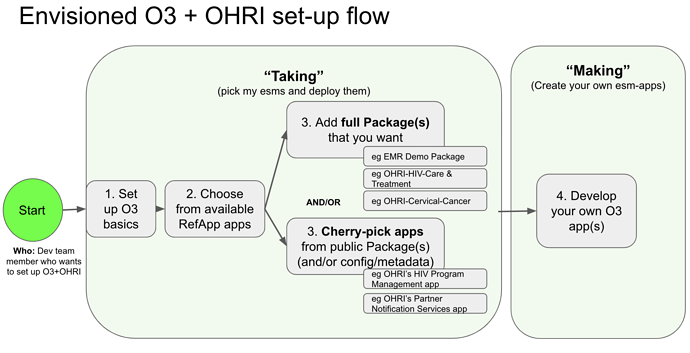 Amos and I had a working session a few weeks ago to take stock of what resources already exist, and to map out which ones should feed into each other to achieve a workflow like the one above. We assigned documentation tasks to @alaboso, @larslemos, and myself. (Small because you don't really need to know the details here unless you want to zoom in; I think the more important part is the chart above.)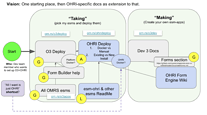 Basically the artifacts we have end up being something like:
I'm wondering if we might be able to get help from a few folks to review the work we have done, and share technical feedback on any areas that are confusing or feel like a separate workflow. Maybe @mozzy @gcliff? (CC @janflowers)
#2:

O3 Apps Directory

You can see the O3 App Directory anytime at om.rs/o3apps. But, there's a lot to update in here - I'm behind in tracking down updated screenshots, github repos, documentation, etc. @gcliff or @herbert24 maybe this is something you'd be interested in helping with? (CC @janflowers)

I would also love to have an inventory in the O3 App Directory of all known O3 "Packages", e.g. OHRI; so we could have an inventory of the OHRI-specific esms as well. @mwaririm & @eudson what do you think of this idea?

CCing for any feedback as well: @dkigen @aojwang @solemabrothers @bistenes @ibacher @dkayiwa & others welcome too.