Hello everyone,
The ICRC has come with an interesting feature that we're trying to gauge the amount of community interest in. Currently they have a form which is very long, however most fields only need to be filled out if some predecessor was selected, or set to a specific value. The idea would be to hide most of the nested form and only render dependent fields after the predecessor was selected. Additionally, certain fields are only applicable if a specific option was chosen, and invalid or should be discarded if the field is set to not that value. Some examples to follow:
Trigger warning: The assets which we are able to share below contain topics of rape, abuse, and violence.
Let's say on an intake form for a victims of violence program we are able to note the main type the patient experienced, either physical and/or emotional, sexual, or another specific type of violence. The initial indication might look like so.

After selecting the first option more question fields would appear so the clinician can report more detail about the specific violence the patient experienced, as seen below.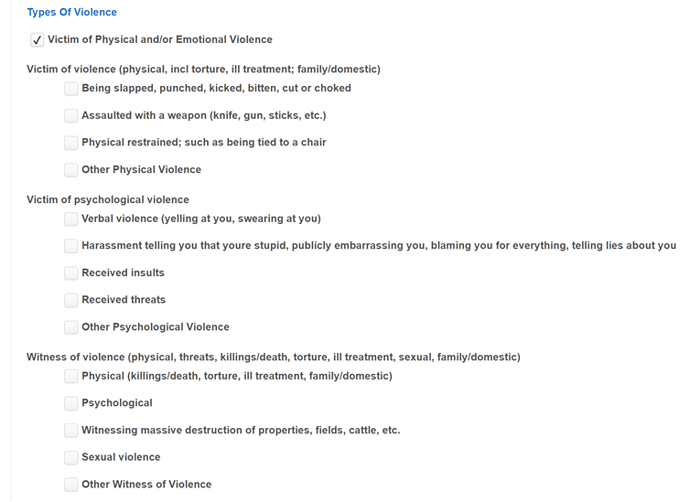 In addition to a nested form structure there is also a desire to support conditional fields. These should only be valid to exist if a predecessor was set to a specific value. For example below, the field "If raped, specify the time that passed since rape" should only show up and contain a value if the prior field "rape" was chosen. The form should not submit a value for this field if rape was not selected.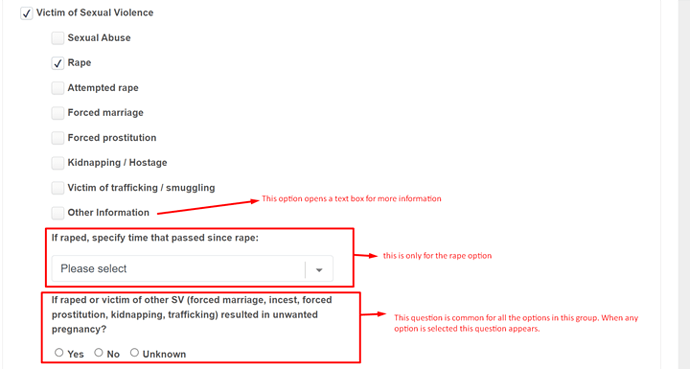 Please respond if either nested forms or conditional fields are of interest to your project, and note the form-engine you are using.
Thanks,
Zac
(Reference TFS-263277)