Hello all,
(Sorry for all the separate threads about Medications, but for clarity it seems best to have a separate thread for each discussion).
We are still working through our Medication Dispense designs, but the current design (as designed with input from pharmacists) seems to be based around the idea of a "prescription" potentially containing orders for multiple drugs, ie all the drugs a clinician may prescribe for a patient the end of a visit.
In OpenMRS an Order contains only one order, and in FHIR, a MedicationRequest can only contain an order for one drug.
I've been researching how FHIR supports "groupings" of MedicationRequests and found the following:
https://fhir-ru.github.io/request.html#compound
The "RequestGroup" seems to map towards the OpenMRS idea of an OrderGroup, but, from my understanding this doesn't quite fit our use case and may over-complicate it, as from the description is designed for the "assertion of complex timing and other dependencies between a collection of request".
Our use case seems more in line with the "requestionId" model, which "generally by the same practitioner at the same time for the same subject. The "requisitionId" represents the identifier of the prescription, lab requisition or other form that was shared by all items." (emphasis mine)
It seems like this this practically done via a "groupIdentifier" stored on the Request object, and I'm wondering if we'd want to consider adding "groupIdentifier" as a property of OpenMRS Order to mimic this functoinality.
Another option would be just to group the orders on encounter, but I hestitate a bit as my instinct is to keep grouping functionality as explicit as possible, and keep the Medication Dispense functionality in the Request/Dispense domain as much as possible to avoid potential API bloat.
As a (somewhat) practical example, consider the initially table/list displayed in the Medication Dispense model (note that although most rows have only 1 drug, the design allows for multiple drugs):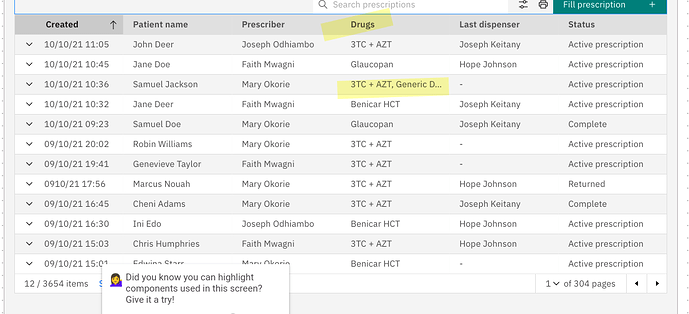 What would be the proper endpoint to fetch this? MedicationRequest elements, grouped by groupIdentifier? Grouped by encounter?
Or should we rethink the design to a stricter "row-per-Medication Request/Order" model?
fyi @mseaton @pauladams @grace @bistenes @ddesimone @burke @mksrom @mksd
Thanks and take care! Mark