Hi I am using Bahmni v 0.87 in vagrant and not able to manage referred lab tests in openELIS.
For the tests that cannot be carried out inside our own hospital, I was able to mark such lab test as "Referred Out" following this document:(Point 3. Refer a Test) https://bahmni.atlassian.net/wiki/display/BAH/Configure+Laboratory+Management+System Example: Blood Grouping has been marked as "Is Referred Out->Yes".
Now in Bahmni Clinical, I ordered the lab test "Blood Grouping" to a patient which flows to openELIS in "Samples To Collect". Since I am not going to collect sample for this test, I tried to directly enter the result for such referred test in openELIS using: Results->Referred Out But it is neither showing any such referral tests nor allowing to enter the result.(Screenshot attached)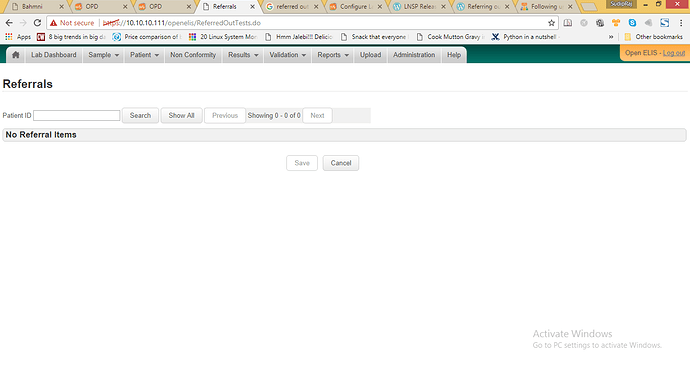 What is the correct workflow for entering result for referred out lab tests?