tl;dr: In 2 weeks, I'd like to auto-close any issues that haven't been updated in >1 year, and add those to the Graveyard. (About 200 issues.) This is to keep our Jira clean and relevant, so we know what matters.
Please have a look at the issues that would be affected here and add a comment to any issues you'd like to keep open. (You'll need to remove the "Graveyard_CANDIDATE" label as well.)
---
Hi Community,
Last year in Nov we did a big Jira clean up that reduced our issues from >4,000 to 1,200. In the last quarter I've personally found it much easier to review tickets as they come in, rather than trying to hunt through a massive backlog. I haven't noticed many tickets at all being resurrected.
We've also put in place new processes. Every Monday our PM Team does the following:
We review all issues filed in the last week (that don't already have someone working on them) so that we're aware of what's coming in, as it comes in
We look through all tickets marked as "Blockers"
We look through tickets marked as Community Priority that are stuck "in-progress"
However we still have a problem: 1,200 issues is too much to manage, and in the PM Team we're still spending time trying to understand old issues only to find that they're no longer relevant. We also still have a big backlog of old, non-triaged tickets. I'm still concerned that there's noise in here hiding things that really matter - as seen in the huge amount of "Should" and "TBD" tickets.
Our average issue age is 656 days (1.8 years old). Much better than it was in November, but I'd like to see this be <1 year. Because if we're honest with ourselves, things that are open more than a year are very unlikely to get attention again, and the knowledge needed to address those older issues quickly grows stale.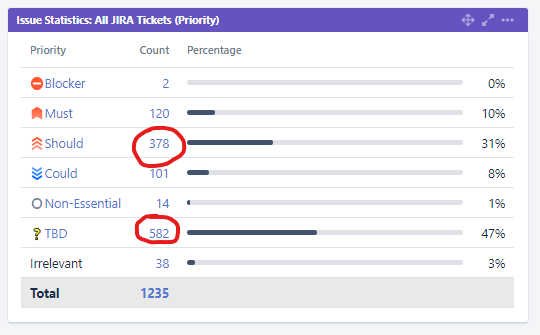 How this would work:
I'd label all issues not updated for >1 year as "Graveyard_CANDIDATE" and add a comment: "This issue has not been updated in >1 year, and so has been identified as a Graveyard candidate - i.e. it will be closed in 2 weeks. If you want to keep this issue open (e.g. because it remains a priority or important thing to fix), please add a comment here explaining why, and remove the "Graveyard_CANDIDATE" label. For questions, you can reach out to @grace (@grace on slack or @grace on Talk)."
In 2 weeks, we'd close as "Won't Fix" all these issues, and label them as "Graveyard".
If someone wants to re-open it, they can still do so.