Since joining the OMRS community, I have repeatedly heard concerns about the Jira workflow that the RefApp uses. For example:
"The states and workflow steps are confusing"
"I can merge the GitHub PR but I can't even figure out how to clearly close this ticket"
"It doesn't seem like I have the permissions to close this"
"Why don't we just use the same workflow as TRUNK?"
I've heard this one the most often: In Jira Issue comments, PM Team calls, Slack messages, and TAC calls. I've heard the idea discussed in the PM Team call, the Jira Ninja calls, and other informal forums before, and it's always been well-received.
So, friends, it's time.
Proposal: In 1 week, we'll change all the Jira projects using the RefApp workflow to use the TRUNK workflow.
LET'S DO IT!
I have concerns - I'll explain in a reply below
What about the tickets still in the funky RefApp stages?
I have reviewed all the tickets that would be impacted. Based on that review, here's where they would belong appropriately - I can ensure they get moved to the right corresponding status. Ignoring the backlog, this will only impact a grand total of 91 tickets being used in some way. This is way less substantial than the work we had to do to clean up 1,000's of issues during the Graveyard project. And I believe each of these statuses does have a relevant match in the TRUNK workflow: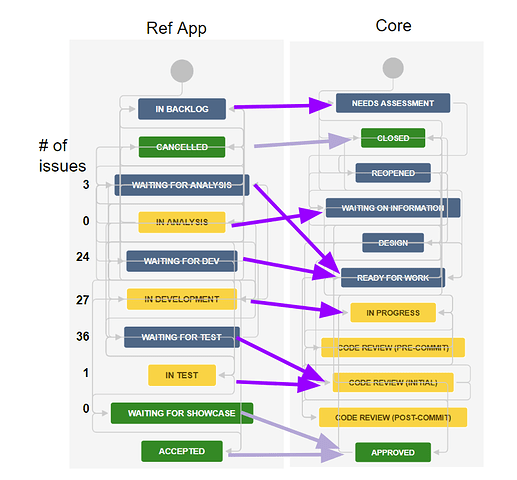 But wait - isn't the TRUNK workflow still pretty complex and confusing?
I agree. We need to fix this, and we started discussing this a few months ago - but first, let's start simpler, and switch to a workflow most people are already familiar with.
Will this impact projects using their own custom workflow?
No. Only projects using the same workflow as RA. Eventually, I would like to see us be mostly standardized so there is less confusion around the community, but that's a problem for another day.
CC @cintiadr @permissionerror @burke @dkayiwa @mseaton @mogoodrich @bistenes @ibacher @herbert24 @mozzy @gcliff @k.joseph @irenyak1 @jwnasambu - and please CC others you think might care about this