Congratulations to @samuel34, who has been nominated by his peers as January's Volunteer of the Month! Nine community members were nominated by 12 people to be January's Volunteer of the Month - and he received three separate nominations!
We want to acknowledge Samuel's work and commitment to the OpenMRS community, so we asked him a few questions about himself and the different ways he is involved in our community.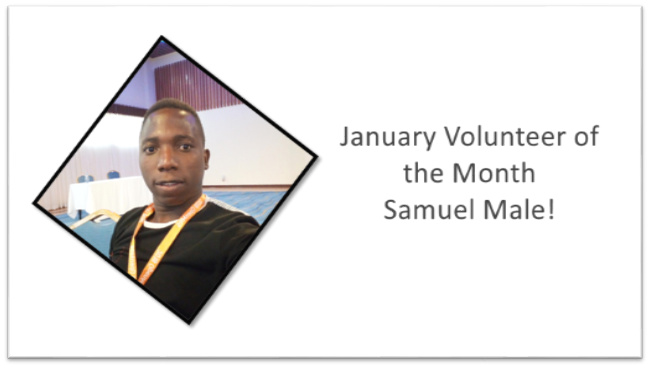 Samuel, tell us a little about your background.
I'm Samuel Male. I'm a second year student of Computer Information Systems at Bugema University in Uganda. Like I said, I'm actually still a student. So out of OpenMRS, I am in school mostly.
When and how did you start with OpenMRS?
Well, I remember it was back in 2017 before I even joined University; I was mentored by @dkayiwa to self-teach myself programming and hence inspired to join the community as a developer.
How do you participate in the community?
I mostly contribute code. This is by working on tickets. I also
Do Code Review

Help others on Talk and IRC

Participated in OMRS18

Attend Project Management Calls
I have been Platform Release Manager and done many releases, including RefApp releases. As a GSoC student, I created a module (Merge Patient Data) and then became GCI mentor in 2018. Now I mentor many of my counterparts about OpenMRS. I spread the news about OpenMRS down this side.

What drives or inspires you to work with OpenMRS?
I love it's ecosystem, which is so welcoming to even newbies. I remember when I joined in 2017, I didn't even know what "MySQL" was! But I was warmly welcomed, and all my questions (even trivial ones) were answered.
What are your favorite things to do in your free time?
I'm a soccer fan. I loosely like Arsenal though at times its heart breaking! I also like watching crime (conspiracies) series and cybercrime movies. Those motivate me a lot in where the world is leading in technology!
What's your favorite OpenMRS moment or tell us what makes OpenMRS special to you?
I like the OpenMRS Annual Conferences. I remember at OMRS18, meeting folks I have worked with before for my very first time! It's really exciting!
How has OpenMRS helped you achieve any of your personal goals or how has working with OpenMRS impacted you?
To me, all I can say OpenMRS is just like my mother! I believe all the tech skills I have are through this community. For that, I'm so thankful to the community! I have even participated in different programs like GSoC and GCI through OpenMRS.