Hi

while working on the migration of JUnit 4 to 5 tests in openmrs-core I noticed a few assertions that can be improved.
I found occurrences of assertEquals(true, expression) which are best written as assertTrue(expression). (We also have assertEquals(false, expression) which are best written as assertFalse(expression) )
Since I found this in 24 files with around 98 occurrences I thought how can this be automated. And here is how:
I used IntelliJs structural find & replace
setup like this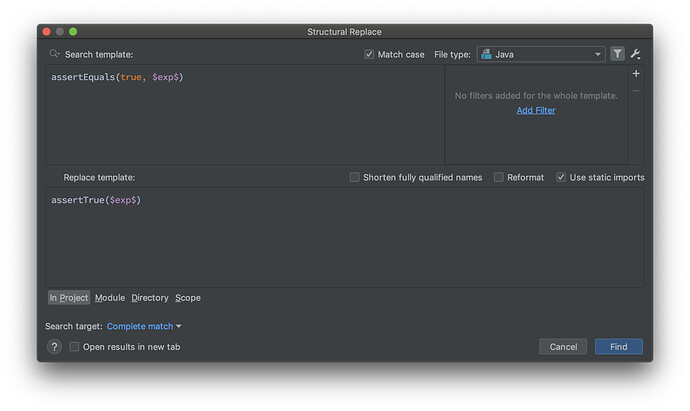 It will search for any assertEquals(true, and put whatever is after the , into a variable. I can then reuse the variable in the replace template to rewrite the code however I want

Once you click ok it will show you all occurrences found with the search template. Allow you to see a preview of the changes of every single occurrence. And also select only a subset of the result to actually do the replacement. So you are in full control of what gets changed.
I hope this inspires you to try this out and tackle some refactorings in core or in your module. Investing time in such automations is very valuable, will save you time in the long run, pain in your hands and prevent mistakes we make while working on repetitive tasks