Hi, All,
Now we have OpenMRS AddOns to get the module/OWA information and Bintary to host it. Using the SysAdmin OWA users can search and get module information from the AddOns. They can just click Install to install the modules. I would like to extend this facility to some great user experience and facilities.
Local App Store for the Moduls and OWAs
The idea to extend the AddOns features locally

. Now users want to,
Goto Website to search for the modules
Get the module Information and download the modules
Upload that module to the OpenMRS Server manually
I would like to merge this three steps into one!. Extremely that is the idea behind the Local App Store. I have just created some prototype screen for the idea,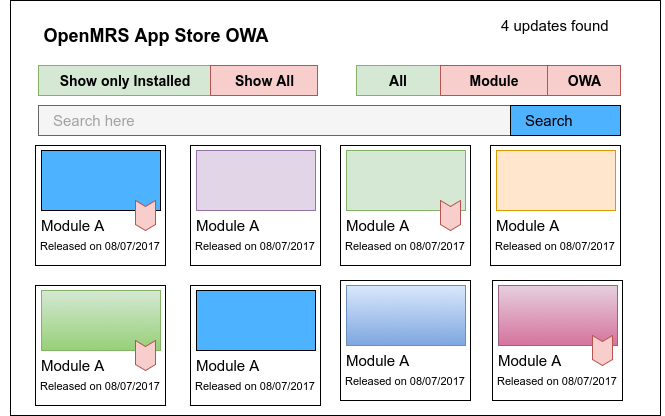 Advantages of this idea,
We can provide more flexibility to the users about the modules and OWAs (like an Andriod or Apple Mobile App Store)
It will provide the notifications about the new modules and OWAs to the users locally
It will check the module update automatically (when user come to App Store) and show the update notifications to the user
User's can provide the module bugs and improvements through the App Store directly.
We can allow the user to rate the modules and provide comments about the module locally.
No need to go to the external websites to get the module/owa information
No need to download from the browser and load it to the module manager. Here we can give direct way
Further, We can combine the installed modules and not installed modules in the server within here. Using some proper icons we can indicate the status to the users using this Local App Store.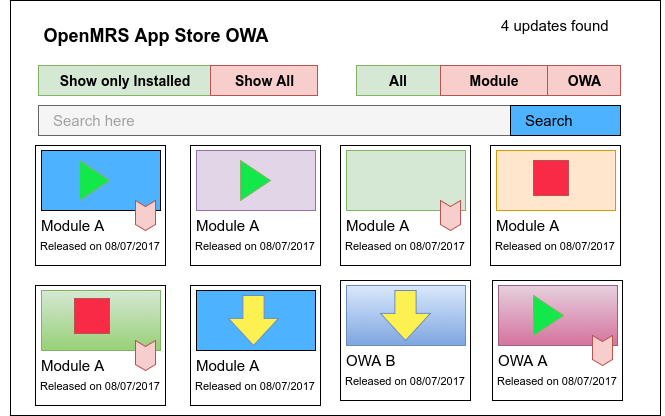 ---
We can implement this in two types,
Implement as a New OWA - Local App Store OWA
Remove search and Install page from the SysAdmin and replace this feature at there.
I would like to get your suggestions about this idea

. Please feel free to provide your suggestions here.