Hello,
We are using the HTMLFormEntry module in our project. In one of the forms we are using the allergy-fragment, where we can see and update the allergies for the patient.
Here is a screenshot of that part of the form.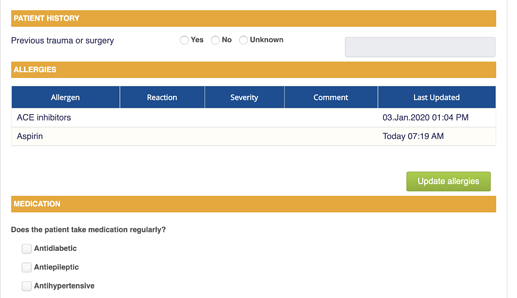 We can click on update allergies and it opens the allergy fragment, where we make changes to allergies. As we can see, there might be previously filled data in the form when we go to update the allergies, which is lost when we come back to the form.
What should be the best way to solve this problem? One thought we have to update the allergies in a new tab and fetch it using a refresh button as mentioned here. (https://wiki.openmrs.org/display/docs/How+to+Use+AJAX+in+a+Fragment)
Let us know your thoughts.
CC: @mksd @mksrom @angshuonline @dkayiwa @ssmusoke @rrameshbtech @vasanth2019 @sukreet @premnisha