Hi @burke I have been working on the core module for a while now trying to understand concepts, concept classes and the requirements of the project.
Through this project we are aiming to provide more flexibility by allowing concepts to be assigned to more than one class. (while providing backward compatibility)
i.e. What we had

What we want

This would require the following :-
modeling the core api to include multiple classes per concept. Achievable by including a new table:- concept_class_map (for mapping concept with multiple concept classes) .concept_id .concept_class_id and accordingly added suitable methods and modifying the existing one's. Thus we are basically redesigning concepts to have one concept_class_id as primary class (for backward compatibility and for those cases where concepts have only 1 class) and mapping the other classes in a Hash table. 2)Change in the data model by including the above table. Thus we would also have to modify the DAO and HibernateDAO classes.
Modifying the web rest api to reflect these additions and changes so that other modules can fetch and post data. 4)Modifying the ui of concept management tools for ex. Modifying the add concept fragment to be able to add multiple classes. (I have the ui mock ups regarding the changes ready)
Questions We have concept_class_id (as primary class). So if someone voids it or deletes it, will another arbitrary concept class from the mapped data become the primary class, i.e will the primary class have any privileges or is it only for backward compatibility. When showing a searched concept do we show only the primary class or all its classes. For searching I think we can change the filter to be able to select multiple classes. (i have a mock up for it)
Thought We added Concept classes to place concepts in a higher bucket, but with this we have a 2 tier relationship. What do you think about creating a hierarchical form for better categorising. Like for example we have a concept class drug which contains all the drug information. If we are able to create a hierarchical table we will be able to further classify the concept classes.We could make it in form of a binary tree or by mapping data. This could provide for better search.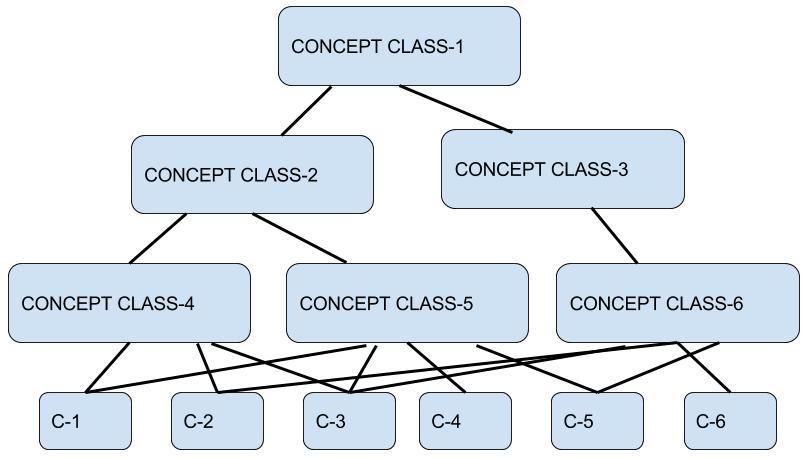 Reference:- discussion on dev list, TRUNK-4540