Hi all,
The documentation points to using ImageHandler to get the ComplexData out of a saved complex obs (images in my case). So I registered ImageHandler with the concept complex that I use to save images. But how does that fit with REST webservices? Is there any service out there that would return the complex data when provided a complex obs's UUID?
When using uicommons's Angular wrapper for the obs REST service, I only see this as the value: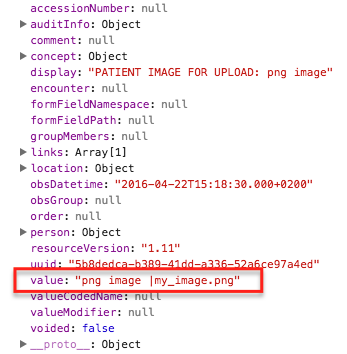 Which is generated by ImageHandler and is my image's metadata, but how do I get back the image as a byte[]?
I have already looked around a little but Bahmni doesn't seem to be using complex obs, and openmrs-module-patientimage uses person attributes.
Thanks for your help!