Hello everyone, for the last couple of weeks, the appointments team has been blocked while trying to build the appointments module.
The weird part is that the appointments endpoints work for some API but for some reason are failing for the dev3 API.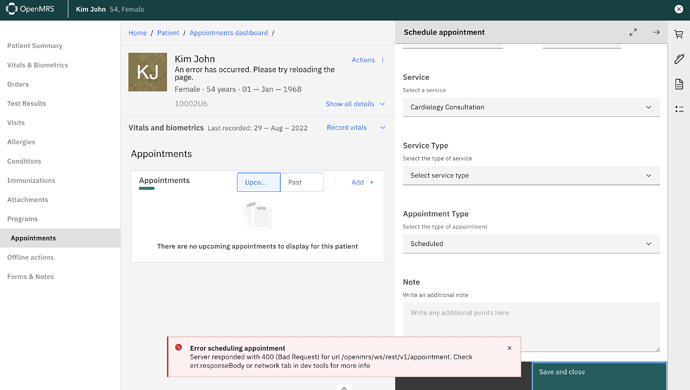 The working API and UI can be viewed in this video on this PR. O3-1431: Create an appointment. by hadijahkyampeire · Pull Request #295 · openmrs/openmrs-esm-patient-management · GitHub.
OR by running the patient management locally with this command.
npx openmrs develop --sources 'packages/esm-appointments-app' --port 8086 --backend=https://data.kenyahmis.org:8500 --api-url=/openmrs
Working API https://data.kenyahmis.org:8500.
We need backend help to figure out why the dev3 appointments are not working as expected.
cc @zacbutko @minimalist @dkibet @dkayiwa @grace @dkigen @kdaud @ibacher