Continuation of the comment at Added xml patching and also covered patient resource by mherman22 · Pull Request #476 · openmrs/openmrs-module-fhir2 · GitHub. When i try to do a json merge patch on the patient resource, the request fails with the error "'Patient#7' failed to validate with reason: uuid: This value exceeds the maximum length of 38 permitted for this field.".
I created an integration test to replicate the error and do step overs using breaking points as advised by @ibacher. Here are the logs of the integration test failure → java.lang.AssertionError: Expected: response with HTTP status indicating reque - Pastebin.com.
The BaseOpenmrsObject seems to provide a maximum length (38) for the uuids as can be seen at openmrs-core/BaseOpenmrsObject.java at 27b61fbfe3a45deeb836df5bc7195890645027e8 · openmrs/openmrs-core · GitHub. And as for the patch request i am trying to make above, after translation by the OpenMRSFhirTranslator, the uuid field seems to be updated with a value of Patient/61b38324-e2fd-4feb-95b7-9e9a2a4400df instead of maintaining the 61b38324-e2fd-4feb-95b7-9e9a2a4400df that it contained before the translation. This is (i believe) the reason why the maximum length of the uuid field is exceeded hence the error.
details in the pics below after doing step overs.
Before translation: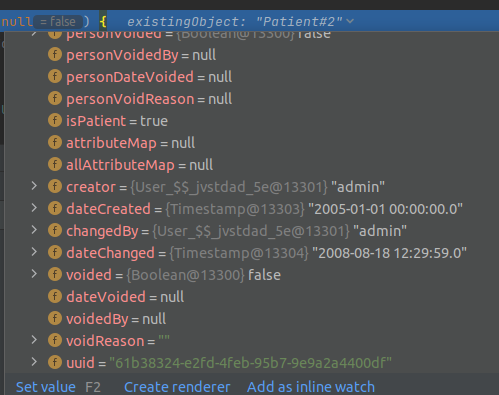 After translation: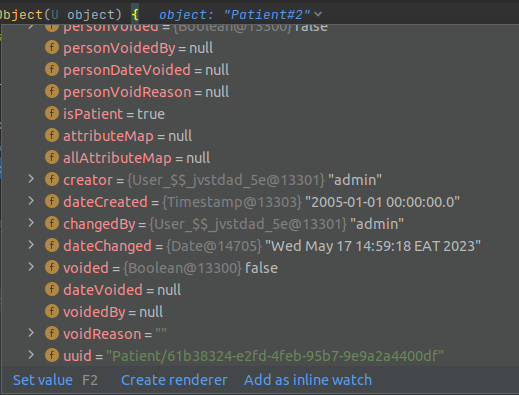 All input is highly welcome, /cc: @ibacher @dkayiwa @mogoodrich @dev5 @abertnamanya