Hello community,
This year Google and OpenMRS gave me a chance to attend the renown GSoC Mentors Summit 2019 at Munich Germany from 17th to 20th October 2019. It is normally held at Mountain View, California, United States, the Google headquarters, however, because Google was celebrating 15years of GSoC, they decided to hold the summit for 3.5 days and also move it to Munich, Germany. The Summit was attended by a total of 318 delegates from 42 countries and 10 volunteers from Google who worked tirelessly to see that everyone was comfortable.
The team of delegates, photo taken by a drone camera
Having been a co-admin of the GSoC program I was very excited and looked forward to meeting part of the great teams that made the program a success. First of all I looked forward to meeting the colleagues from OpenMRS like @suthagar23 and @judeniroshan that I had never physically met before, they are great guys, and Kudos for doing a great job for OpenMRS!
OpenMRS team, from left to right; Juliet, Irene, Suthagar and Jude.
Secondly I looked forward to meeting Stephanie Taylor who is in charge of Open Source Programs at Google. I had to steal a Kodak moment with her for memories. This was Kairotic time for me!
Irene and Stephanie Taylor at the Marriott hotel, Munich lobby
I did not only stop at meeting the fore mentioned people but I also met other mentors and admins from different projects. Talking and sharing ideas with them on how to make GSoC better and more inclusive, I realized it's not only OpenMRS where few ladies participated in the GSoC as students and mentors. Some Organizations did not chance to have even a single lady come on board. This is was a key point for many Organizations to encourage and empower the women so that they can equally participate in different programs.
Lightning talks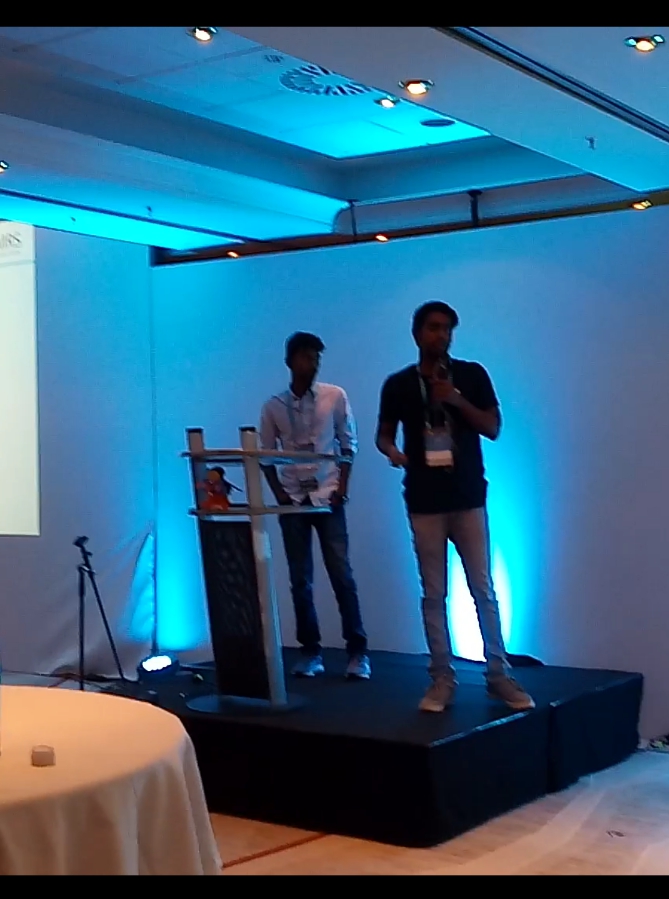 Suthagar and Jude giving lightning talks on behalf of OpenMRS
Every organization was given opportunity to present the best GSoC project in just three minutes. @suthagar23 and @judeniroshan presented on behalf of OpenMRS as Juliet and I were doing the one- on-one sessions about what OpenMRS is doing and how it has impacted the world at large. Many folks showed interest in what we are doing as an Organization and I remember so well one gentleman from the USA, I don't remember the state, who sighed as if in relief after we had explained to him about our work. He had been looking for a Medical Record System and had tried many in vain. He promised to try out OpenMRS, I hope he does.
Unconference sessions
There were many sessions happening at the same time, organized by different people in the studio rooms right from the evening of Friday to Sunday afternoon. There was a board which acted as a Kanban were people placed their presentations, so it was up to one to choose where to go. These were both interesting and educative especially when you would realize that some challenges cut across organization, for example planning for the minority, maintaining former GSoC students in the community and diversity inclusiveness at large. We had a lot of sessions organized by different org people among the studio rooms in the hotel on Friday evening, Saturday and Sunday. We learnt a lot from other mentors and admins and hope to implement these great ideas in the forthcoming GCI and GSoC programs to uplift the quality of our work as OpenMRS.
Fun around Munich
Friday was the official fun day and people had prior been given a chance to choose the fun activity they would participate in, either Scavenger hunt or Castle tour. Juliet , Suthagar and I chose to take a tour to the Nymphenburg Palace, "Castle of the Nymph" opened in 1675. It is one of the city's top sights and one of the largest royal palaces in Europe. This place was breath taking as I witnessed how these people have been able to keep their historical castles intact for over 300 years. As a student in school I never appreciated the value of history but I marveled at how important it is to keep historical sites for future generations.
At the Castle of the Nymph
On this note I was so grateful that Google decided to give each attendee a one day bus/train ticket to move anywhere within the city of Munich. The adventurous in me could not allow me to just sit at the hotel and waste such a precious ticket! Juliet and I decided to take an adventure to the BMW museum and the Olympia park.
There after we decided to take another adventure with an underground train to Innere Wiener Str where we met people from @jwnasambu 's mama land. At first we were getting frustrated as our phones did not have internet connection for us to easily trace the place, but at the second thought we asked a stranger(young lady) for help who googled up the place for us and then we were able to proceed. This was a bit far from the hotel, but because we didn't have to pay a coin for fare, it was 'as easy as pie'. From there we then headed back to the hotel. The movement so swift and enjoyable, We got a glimpse of Munich!
I can not forget the fully packed room of chocolate. I did not know it was a culture for the summit for everyone to carry the best or worst chocolate made in their countries until I received an email from Google about what to pack for the trip. I thought I would take some from Uganda until the last minute that I realized I could not make it to their distribution centre. If there's any room that was most frequented, it was the chocolate room! There were so many goodies on top of chocolates including stickers, T-shirts and mouse pads brought by different organizations.
Thank you so much OpenMRS for supporting me and making sure that every process was smooth and fast. At first I thought I would not make it through the process since I got the invitation a month later than the rest. I am grateful you supported me all through. Thanks @jennifer and @all. It was an amazing experience