Hello,
We are using the <encounterDate> HFE tag in a form. When we want to add an encounter to a past visit, the date is automatically set to the visit start date when we load the page:

For a visit that starts on 19/08/2015, the date is: => That's perfect.
However, that doesn't work on Firefox. On Firefox, the date prefilled is the date of today: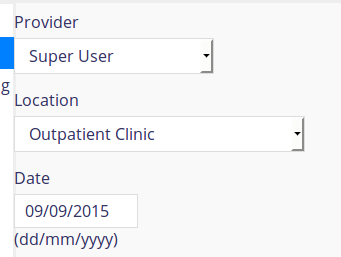 Therefore, I am unable to save the encounter

Note that it occurs also with Safari iOS and Chrome iOS
---
Debug of enterHtmlFormWithSimpleUi.page Chrome:

Firefox:

the setEncounterDate() function is called with the right date (visit start date) in both browsers.
Maybe the problem is coming from the datepicker() function call.

This doesn't set anything when on Firefox.