Hi all
There is this common issue of some implementations installing OpenMRS platform 2.x and they hit upon this
No User Interface Module Installed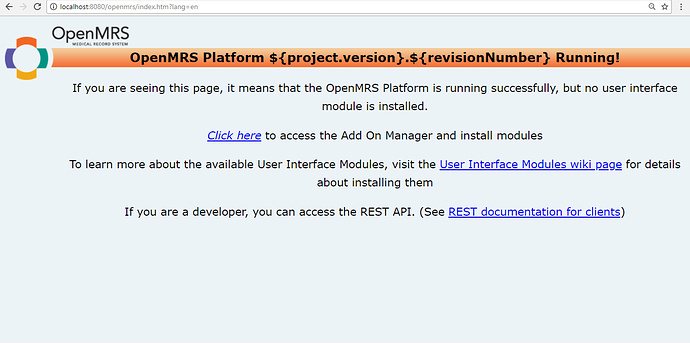 This may look quite trivial to some of the experienced devs with OpenMRS. But I think to make the installation process more agile and easy to the new implementations this issue should be addressed in a better way just like Proposing a sprint to help people upgrade to Platform 2.x (Mozambique tried to upgrade to Platform 2.x, but was blocked for various reasons) is being addressed. This should also be considered a "Community priority".
Extending discussion and work from here, @ivange94 came up with a Documentation on this issue, however I think this should be updated and improved cause am seeing alot of implementations being blocked by this simple issue. I suppose workarounds should be done to automate the installation process without hitting this tragedy. If documentations are put in place, I think links to the resource are relevant on such pages, download, Installing OpenMRS . I'm just coming up with an idea members, Any thoughts?
cc: @ivange94 , @darius , @dkayiwa … etc