Hi @akanter, We've got a lot of implementations increasingly using OMRS (esp. O3) specifically for NCD applications. So I'm now finding myself using a lot of HTN and Diabetes codes.
If you're happy with the clinical semantics, could we add these short names / synonyms to the following:
"Diabetes Type 1" and "Type 1 Diabetes" as synonyms for Diabetes insipidus?
"Diabetes Type 2" and "Type 2 Diabetes" as synonyms for Diabetes mellitus?
Handling for "NIDDM" - I have heard some clinical controversy over how best to use NIDDM; many sources list NIDDM as a synonym for Diabetes Mellitus / Diabetes Type 2, but this sometimes gets confusing when a DM patient does eventually become insulin-dependent. If you could look into this so we either have a concept for NIDDM or a short name for it under DM that would be great. We do have "NIDDM in non-obese" in CIEL but some way of simply representing NIDDM would be good. I have found that different regions have different ways of talking about DM 1 and 2 - more progressive tend to be NIDDM, or 1/2, or DI vs DM, etc. So would be great to cover all of these.
Where this is specifically coming up is here, in the Diagnoses fields: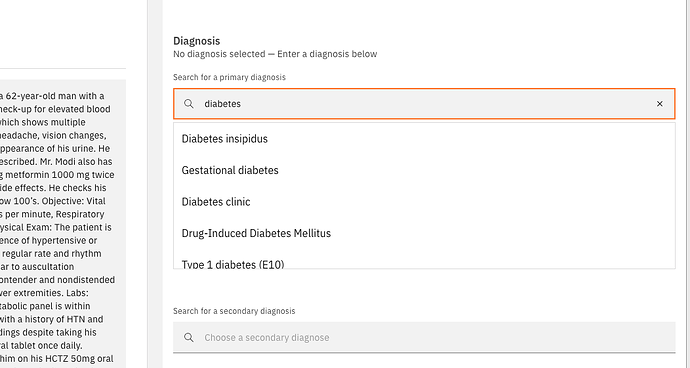 (obviously this field needs some work - e.g. we should limit it to "Diagnosis"-type concepts, and we should allow look-up by short names and synonyms. Want to make this as painless as possible for busy clinicians. e.g. I was having headaches today trying to find Type 2 DM.)
CC @ball