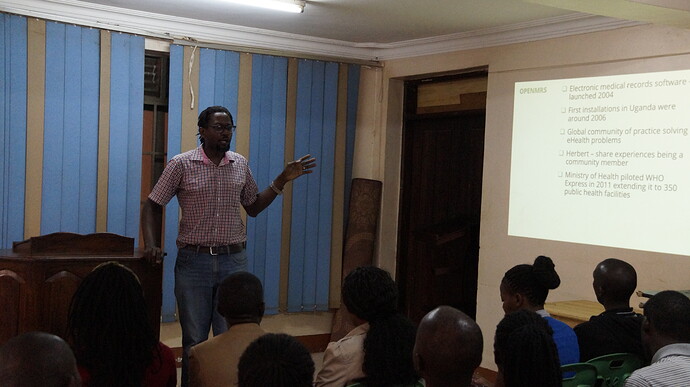 Tuesday 4/3/2020 openmrs Uganda chapter carried out an outreach at Bugema University Kampala Campus with an objective of introducing the students to Google Summer of Code which is a global program focused on introducing students to open source software development. During this period, students work on a 3 months programming project under the guidance of the community mentors.
The main presenter of the event was @ssmusoke who doubles as an implementer and developer from UgandaEMR which is under openmrs community. He has along history of mentoring students in hackathons and GSoC. His presentation focused on mainly why Openmrs, ugandaEMR, GSoC and women in Tech and each was accompanied by a successful story from different openmrs volunteer.
Just a summary of what he said about openmrs in relation to GSoC
Openmrs has been a GSoC mentoring organization every year since the program's inception. As a mentoring organization, openmrs is able to draw attention and new talent to many of its projects; openmrs projects benefit from contributions and galvanize new community members by mentoring students; and students have an invaluable opportunity to gain experience by working directly with the individuals behind openmrs projects. This, in turn, enriches the health sector as a whole, and furthers the mission of providing software for the public good."
As he geared up for Google Summer of Code 2020, we took a moment to listen to successful stories from Kaweesi Joseph and Male Samuel who started their journey with openmrs by participating in GSoC as students and continued contributing actively to the community. currently serving as mentors in Google Summer of Code in openmrs community and always keen to spread the word about Openmrs to create an impact around the globe and focus on reducing the barriers for newcomers into this community.
Nyakate Irene and Juliet on behalf of women shared their experiences of being in openmrs as volunteers as well as what motivates them to be mentors. How one can contribute to the community. Overall, it was one of the lifetime experiences for every representative. The outreach was full of memories and we got to learn so much, we also made new friends to motivate to join the community.
After the talk we all managed to spend some more time with student one-on-one talk , helping those who wish to join the community on how they can start. We selected our ambassadors to help in follow-ups that is @odorajonathan and @georgejr. and also the administration promised to work hand in hand with the interested students and support them where need arise.
This outreach was extra special because 13 openmrs volunteers were able to meet face to face and encourage each other after the event. making funny, Shared ideas on how to improve our contribution to openmrs community and we look forward for another outreach.
Special thanks to @ugandaEMR ,@ssmusoke for the lively presentation @dbaluku our camera man, photos are on this link, @dkayiwa the openmrs celebrity who attracted many students and administration to attend, @danfuterman for Google stickers, @openmrs community at large and finally all the volunteers who turned up for the event.