We are slowly going to start working on implementing Bintray related features for Add Ons now that @raff has completed Bintray migration of OpenMRS modules .
The first feature that we will need your opinion for is the Implementation of comments feature from Bintray.
Currently, our plan is to keep Addons as simple as possible thereby reducing the effort that will be needed to maintain it. Keeping that in mind, @darius proposed that we fetch the comments from Bintray and display it in Add Ons rather and have a button("Write a Review") which when clicked will redirect the user to Bintray where he can login and post the comment. This comment will then be fetched within addons.
Why do we plan to do it this way?
That's because by doing this, we will not have to implement our own login system which will reduce the complexity of this project to a great extent while at the same time we can ensure that we don't lose out on this feature.
Here is a mock-up of the same: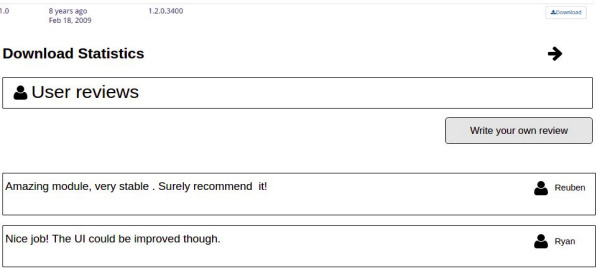 The next feature that was the Implementation of download counts.
We have a wide variety of options when it comes to this feature. We can fetch the download counts and graph it out (again a wide set of option on which library to use and also which type of graph to use) or we can just display the total download count. Please provide you thoughts on which one you would like to see in Add Ons by replying to this post . I have created one mock-up for this as well . The graph in the mock-up is actually the graph found on Bintray when we open a Module's page

Thanks again to @raff and all who worked on the Bintray migration.
For any further questions, please contact @darius , @mseaton or me