Module: OpenHMIS Inventory Module
Module Version: 3.0.0
System Version: 2.1.4
Reference Application Module: 2.9.0
Issue or Question:
The Inventory reports page seems to have some labels hard coded in Spanish, see screenshot: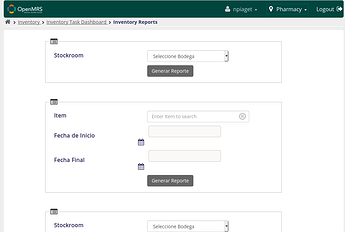 If my understanding is correct, the file responsible for this is:
I'm ready to help and create a PR for this, however my skills in java are very low and I'm having problems with building the package. Here are the steps that I did:
Fork the project on github
Clone it locally
Run: mvn clean package
Then I get the following errors:
[ERROR] Failed to execute goal on project openhmis.inventory-api: Could not resolve dependencies for project org.openmrs.module:openhmis.inventory-api:jar:3.0.0: The following artifacts coul
d not be resolved: org.openmrs.module:openhmis.commons-api:jar:4.0.0, org.openmrs.module:openhmis.commons-tests:jar:4.0.0, org.openmrs.module:jasperreport-api:jar:2.0.0: Failure to find org.
openmrs.module:openhmis.commons-api:jar:4.0.0 in http://mavenrepo.openmrs.org/nexus/content/repositories/public was cached in the local repository, resolution will not be reattempted until the update interval of openmrs-repo has elapsed or updates are forced -> [Help 1]

Could you advice on the correct steps to take @ibewes, @whiscard, @insiderish ?
Thanks !