Good day,
Not long ago we kickstarted the conversation of moving Bahmni codebase from AngularJS to React. While React is a decent choice to keep it modern and attract more contributions, but at the same time it is "yet another framework" and at some point it will suffer a deprecation (just like AngularJS); perhaps there's simply no long term strategy for frontend frameworks as of now, "unfortunately". Our initial thoughts were to make the overall rewrite framework agnostic - while still using React i.e.
Slice the UI into cleanly componentize microfrontends (React)
Put the components in a custom element for composition in the page (Web Componenets)
Create a layer that works with import maps similarily as webpack works with module federation (Pure JS and HTML)
This will limit the blast zone, and allow more independent rewrites of critical components in the future, rather then having to rewrite the application as a whole again.
We also evaluated the amazing OpenMRS 3.0 MF work that happened in past few years and seems it went though similar journey. So instead of duplicating the efforts and (future) problems, our proposal for Bahmni would be to piggiback on overall decisions and frameworks used for OpenMRS 3.0 MF and extend features on top it.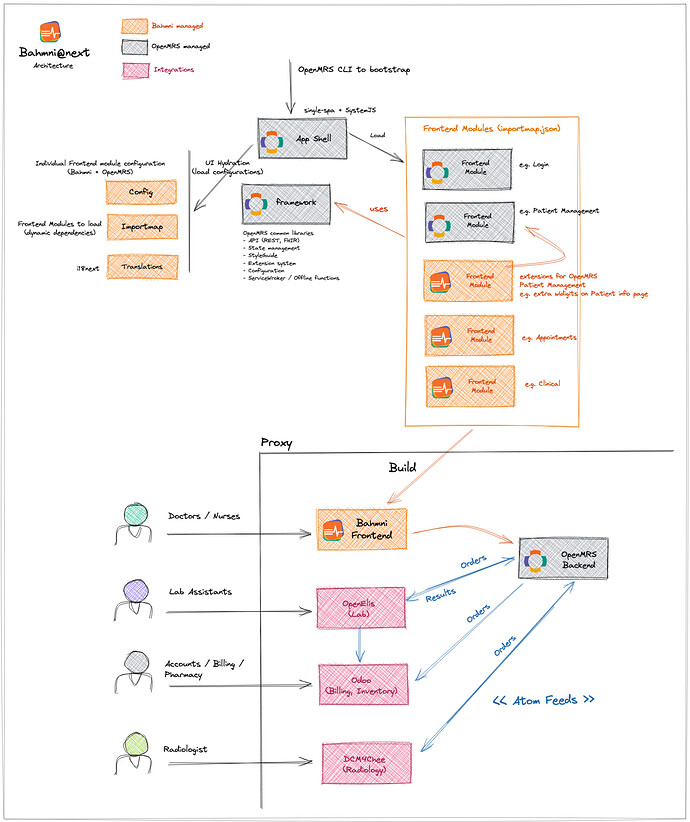 Bahmni@next
Leverage the core OpenMRS 3.0 such as App shell and esm-framework.
Leverage some of the Open MRS 3.0 frontend-modules such as patient management and then extend any misisng UI components/features requried for Bahmni
Add new Bahmni Pages/Features as frontend-modules e.g. Clinical, Appointment etc
We will talk in a bit more deatils in the upcoming PAT call on 24th Nov 2021 and would be happy to hear your thoughts and suggestions.
Bahmni PAT (24th Nov 2021): Zoom Meeting
Regards