We are working with @jose007 on the CDAGenerator module, since we will include it in an FHIR resource later on. We are need to work with OAuth.
We are trying to send a JSON object to a Controller by using a $.ajax POST call, but we find an Bad Request Error 400.
Note that without the Oauth module the call works correctly.
JQuery :
$('#botonBuscarDocument').on( 'click', function(e) {
	if (validate()) {
		var encounter = {
			typeEncounter: document.getElementById("cda_type").value,
			patientId: document.getElementById("patientId").value,
			encounterId: '',
			patientUuid: -1
		};
		var jqxhr = $.ajax({
			url: '${pageContext.request.contextPath}/module/CDAGenerator/exportcda.form',
			type: "POST",
			dataType: "text",
			contentType: "application/json",
			data: JSON.stringify( encounter ),
			success: function(  listEncounter) {
				console.log('todo ok en document all');
				mostrarTablaEncounter(listEncounter);
			},
			error: function( jqXHR, textStatus, errorThrown ) {
				console.log(textStatus+ "\nError Tirado: \n"+ errorThrown);
			}
		});
	}
});

Controller:
@RequestMapping(value = { "/module/CDAGenerator/exportcda.form" }, method = RequestMethod.POST )
@ResponseBody
public String manage( @RequestBody final String typeEncounter, HttpServletResponse response ) throws JSONException{
	System.out.println("----------------------------"+typeEncounter);

	JSONObject bcth =  new JSONObject( typeEncounter );

	Integer patientId = new Integer( bcth.getString( "patientId" ) );
	String patientUuid = bcth.getString( "patientUuid" );

	System.out.println("--typeEncounter--"+bcth.getString("typeEncounter"));
	System.out.println("--patientId--"+patientId);
	System.out.println("--encounterId--"+bcth.getString("encounterId"));
	
	System.out.println("--patientUuid--"+bcth.getString("patientUuid"));


	PatientService patientService = Context.getPatientService();
	org.openmrs.Patient patient;
	if ( patientId.compareTo( new Integer( -1 ) ) == 1 )
		patient = patientService.getPatient( patientId );
	else
		patient = patientService.getPatientByUuid( patientUuid );


	if ( bcth.getString("encounterId").equals("") ) {
		return this.getListEncounterJSON( patient, bcth.getString("typeEncounter") );
	}
	else {
		ClinicalDocument cda = null;
		FhirCdaServerService cdaservice = Context.getService(FhirCdaServerService.class);

		Integer encotunterId = new Integer( bcth.getString( "encounterId" ) );

		cda = cdaservice.produceCDA( Context.getEncounterService().getEncounter( encotunterId ) );

		CDAPackage.eINSTANCE.eClass();

		response.setHeader("Content-Disposition","attachment;filename=" + patient.getGivenName() +
			bcth.getString("typeEncounter") + ".xml");
		try {
			StringWriter r = new StringWriter();
			CDAUtil.save(cda, r);
			String cdaDoc = r.toString();
			cdaDoc = cdaDoc.replaceAll("
", "\n");
			cdaDoc = cdaDoc.replaceAll("&lt;", "<");
			cdaDoc = cdaDoc.replaceAll("&quot;", "\"");
			byte[] res = cdaDoc.getBytes(Charset.forName("UTF-8"));
			response.setContentType("text/xml");
			response.setCharacterEncoding("UTF-8");
			response.getOutputStream().write(res);
			response.flushBuffer();
		}
		catch (IOException e) {
			e.printStackTrace();
		}
		catch (Exception e) {
			e.printStackTrace();
		}
		return null;
	}
}

We attach the captures: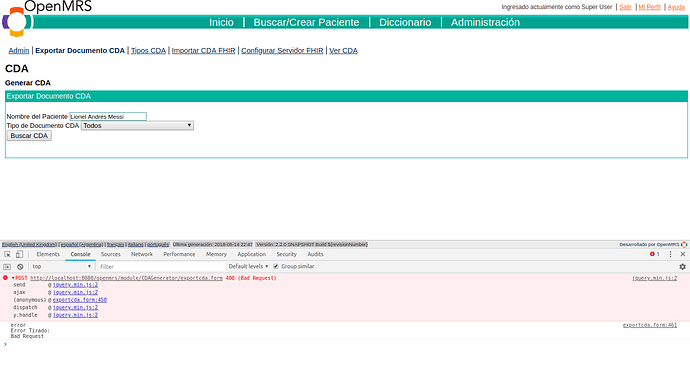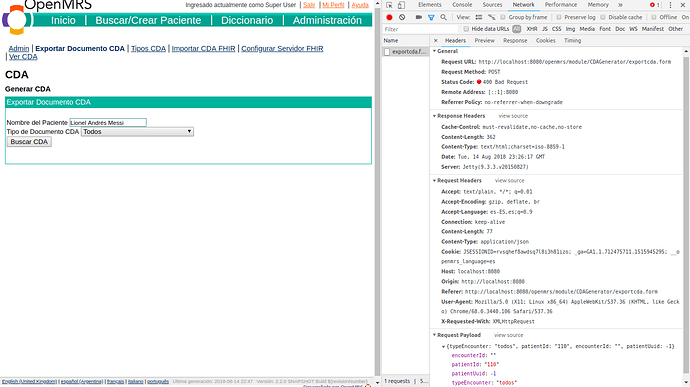 Can someone help us? @mavrk @pkatopenmrs